A Word From Robben
I went to Nashville to record nine songs in a single day, with six new songs my band
had never played before and a fractured wrist. (Who's idea was this?!?) Indeed, my
co-producer, engineer and dear friend Rick Wheeler and I had decided to pull off this
stunt having come to find that the live tracks we'd recorded in Europe for this purpose
were not up to snuff. So, live in the studio in one day was the call. (We hadn't counted
on the wrist thing.)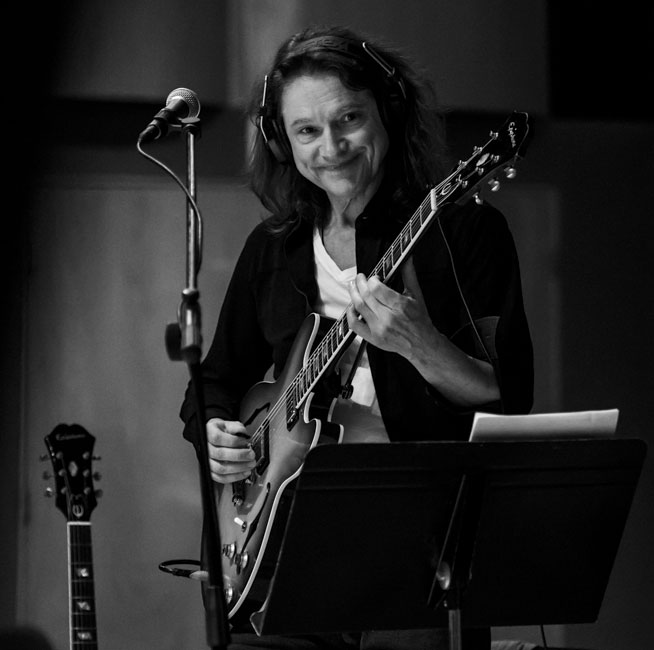 Our good friends at TrueFire were down to video the whole project from beginning to end and, as happy as I was about that, it definitely caused a little extra apprehension on my part. But it turned out that their vibe and way of working made them not only Not an obstacle in the studio, but an enhancing factor to the entire project. It was great to have them there.
Nine songs in a day just isn't done anymore, and I would say it speaks volumes about
all of my co-conspirators. The band: Wes Little on drums, Brian Allen on bass, Ricky
Peterson on organ, and I must include Rick Wheeler recording us, did something
very rare that day. We played that music right there and then, spending often less
than an hour on each song, with six of the songs having been written over the three week
period prior. We'd never even played them together yet as a band. (You have
to imagine we were sweating it a little bit!) We had brought in guitarist Audley Freed
for the tracking day to provide some needed support for me, and he too became an
indispensable component to our success.
From there the ball was pretty much in Rick Wheelers court to mix in three days. Wes
and Brian visited to give suggestions and moral support, but Rick did an amazing
job under pressure, not only in the mixing, but in recording all that music in a single
day, in a studio that was experiencing some problems that needed some serious
circumventing. I guess all that landing of jets on aircraft carriers can give you nerves
of steel!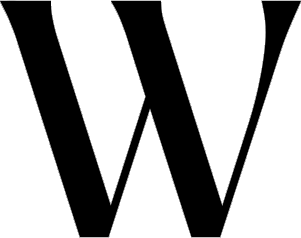 We've had some pretty special days here at the 'Fire but Friday, October 27th of 2013 went straight to number one with a bullet.
Robben Ford invited us to film the making of his next record. He planned to live track nine new songs for his next album, in a Nashville studio with a 6-piece band, and do it all in a single day. What?!
We didn't think twice. Tommy cleared our studio schedule and three weeks later Tommy, Ali, Todd and myself packed the truck and dead-headed to Nashville with our gear and bated breath.

I keep a shoot log when we go out on location, mostly to help sequence our footage and track hours on the shoot. The following time sequence is pulled directly from that log and it's accurate to the minute. I think you'll be as impressed as I was with what was accomplished within that time frame.
6:45 AM
Day starts a little too early due to unshaded wall of windows in our Nashville loft. Rousts me out of an already restless sleep. Not pleasant, but no biggie.
6:42 AM
Tommy and Todd still sleeping soundly so I make ample noise to likewise roust them. Apparently, much more of a biggie for them. Grouchy dudes.
7:21 AM
Load cameras, tripods, laptops, cables, lights, audio equipment, power equipment, and case after case of technical doodads back into truck. Dudes still grouchy.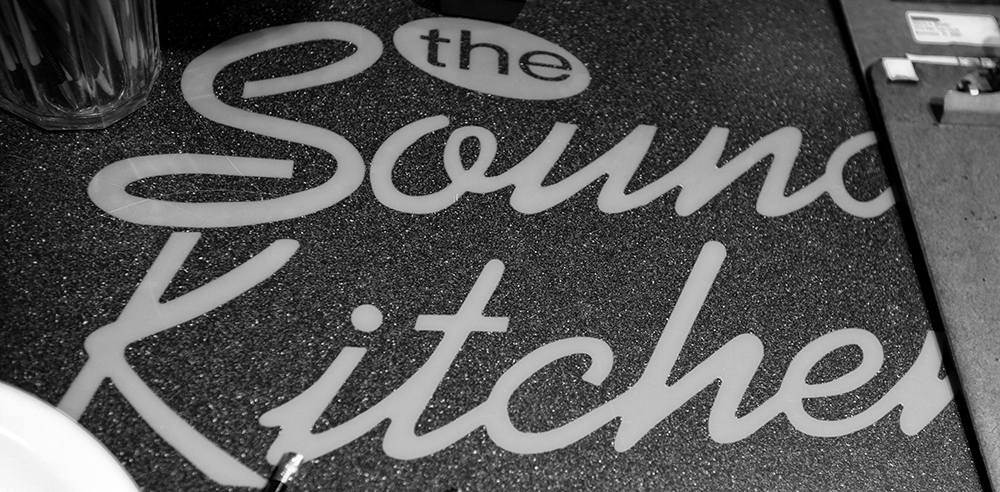 7:33 AM
Starbucks. One grande triple cappuccino, reverse red eye with low fat milk, dash of cinnamon and chocolate. One grande iced coffee with milk and one squirt low-cal sweetener. One tall dark roast, black. Everybody almost happy again.
8:14 AM
Pick up Ali downtown at her hotel. Mandatory drive-thru at Jack-In-The-Box to feed her taco addiction. Twelve tacos for her (eats six, stashes six, does not share). Bacon and egg for the rest of us. Hits the spot and now everybody is smiling again.
8:58 AM
Unload and set-up at Sound Kitchen Studios. Big Boy Room. Really, really big tracking room. We thought we'd be first there, but everybody's either already there or just arriving. Lots of activity. Apparently, they start real early in Nashville. Country thing?
9:18 AM
Wes Little getting drums mic'd in the main room. Brian Allen setting up his acoustic bass in an iso room and his electric in the main. Trombone monster Barry Green warming up in another iso. Back in the main, Ricky Peterson dialing in settings on his organ. Audley Freed tuning up his guitar out there as well.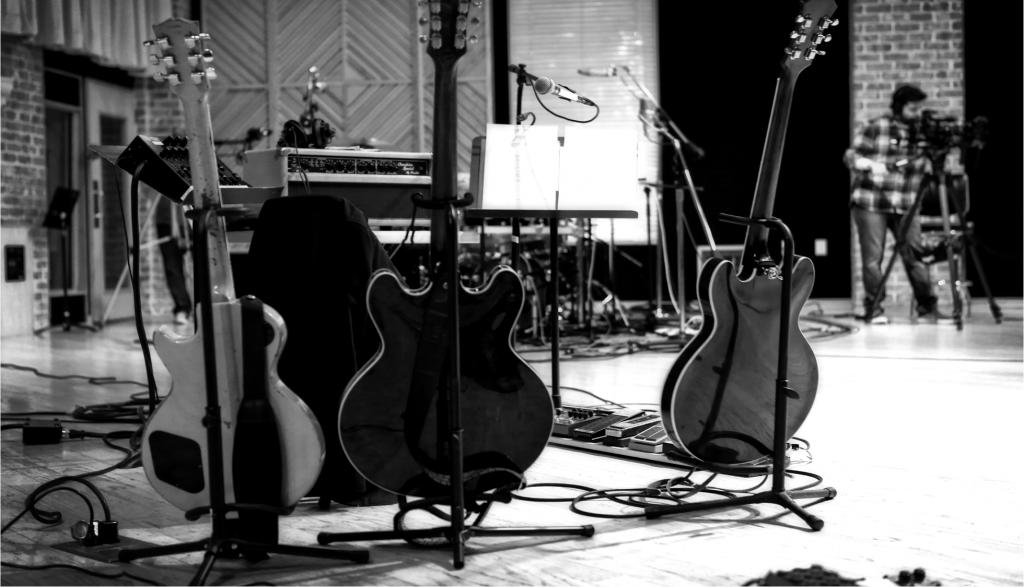 9:37 AM
Robben and co-producer Rick Wheeler in the control room refining the day's session schedule. Engineers and techs hustling back and forth. Everyone appears cool, calm and collected, but wait a minute…is that a soft cast on Robben's wrist?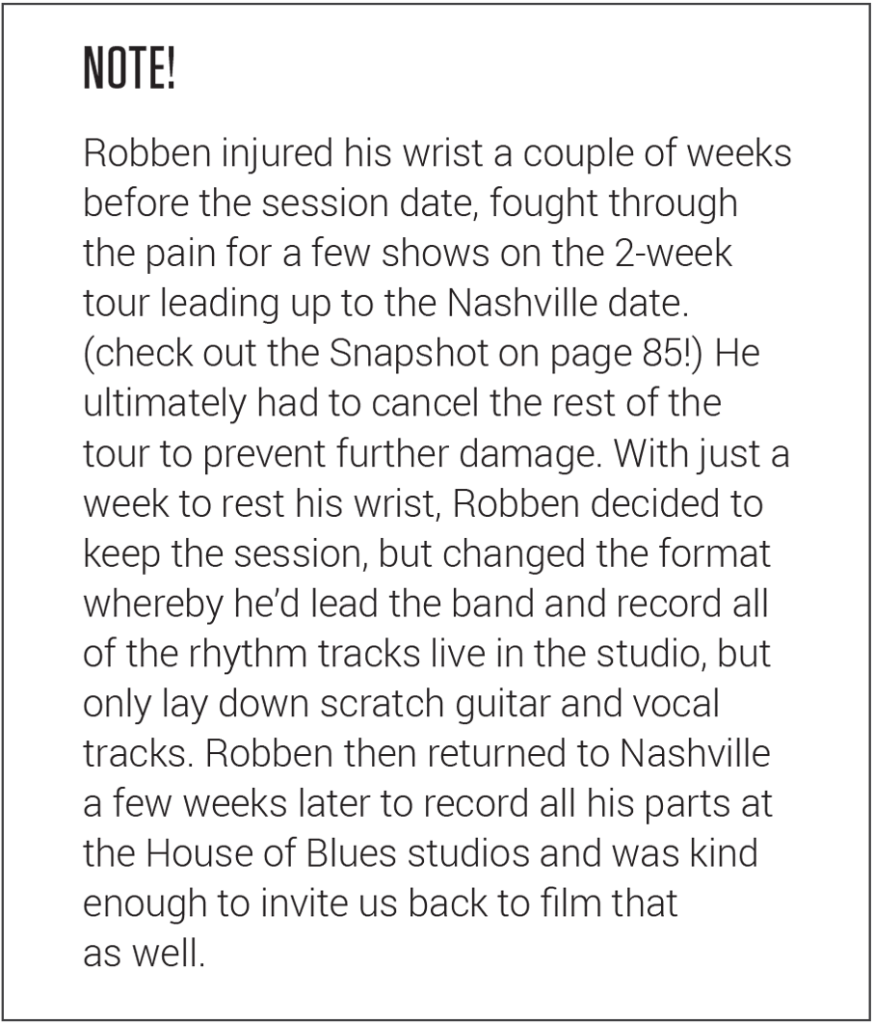 10:53 AM
Musicians are set-up, plugged in and now sound checking and adjusting their cans and mix for the first tune. We have four lock-down cameras and four manned cameras good to go. Getting real close.
12:48 PM
Robben removes the soft cast and leads the band through four takes of "Green Grass, Rainwater". The four takes are only necessary for dialing in the overall mix on the console and levels of the musician's monitors – the band is definitely on their game. This is a very original original – impossible for me to classify its genre. I guarantee you will dig it as much as I do.
1:51 PM
I can't stop rocking back and forth behind my camera during "Just Another Country Road" (wish it took more than one take!). If you've been pining for more of that inimitable Robben Ford-ish electric blues guitar — massive doses of the stuff can be found here. Dig in.
2:42 PM
Only two takes to nail "Different People," a beautiful love song co-written with Michael McDonald. Everybody in the band named this tune as one of their favorites. I made a note in my log to ask Robben to show me the exquisite chord voicings he used on this tune.
3:32 PM
Robben leads the band through his arrangement of "Poor Kelly's Blues," a Big Maceo Merriweather tune. Spiced just right with bluesy guitar lines and a killer B3 solo from monster session player Ricky Peterson.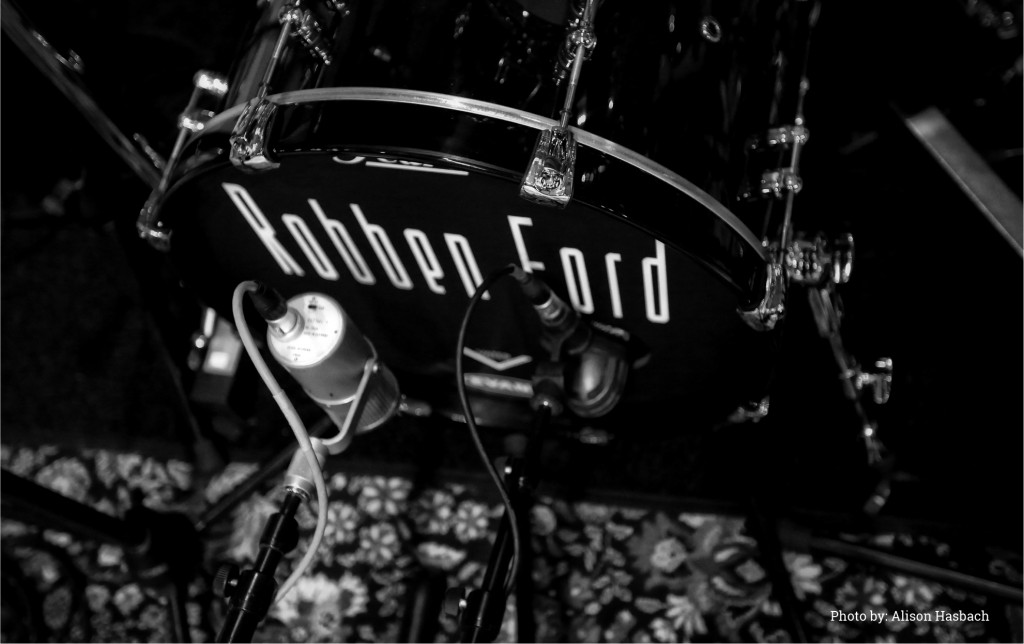 4:07 PM
Apparently I was rocking back and forth again with "Top Down Blues" because Tommy later told me I had a little too much camera shake on my angle. Ha! Robben tours with Brian Allen and Wes Little and herein is ample testimony as to why. Barry Green's trombone grabs your ear from the start of this tune and just won't let go. His contributions to the entire record are massive. One of only two instrumentals on the record.
5:09 PM
"Midnight Comes Too Soon" took five takes, but still no longer than an hour to put to bed. It's here that we got to witness the organic and creative process of top-notch pros interacting in the studio, refining sections and making subtle tweaks to transform a great song into a brilliant musical experience.
6:11 PM
If this album was recorded in the good 'ole days when bands made a living selling albums and fans lined up at the local record stores to buy them, "Ain't Drinking Beer No More" would be the song blasting from everybody's radios while everybody sang along. Sadly those days are gone. Happily we can still sing along and sing along we will.
7:03 PM
The second instrumental, "Thump and Bump" rounds out the eclectic range of tunes on the album. When you hear this one, and you consider that it is now the eighth tune tracked on this day, and that it only took forty minutes to lay it down in the studio, you will understand why this day was a once-in-a-lifetime experience for Tommy, Todd, Ali and me.
7:43 PM
How Robben and the band had the energy to track "Cut You Loose" at this point in the session still amazes me to this day (have you noticed there's not even any scheduled lunch or dinner breaks in the timeline?). Only two takes to get this one in the can, but selfishly I wished for more because I didn't want the day to end.
8:52
After listening to the last track in the control room, Rick and Robben call a wrap. The musicians pack up and we break down our gear. In that moment, I don't think anybody fully appreciated what had been accomplished that day. It wasn't until the next day, when we all returned to the studio for interviews with the musicians that we wanted to film, that the wow factor really kicked in.
10:17 PM
Tommy, Todd, Ali and me are huddled around a table at The Whisky Kitchen downtown Nashville scarfing ribs, burgers and beers. Usually we run down our on-location shoots, but for some unspoken reason, none of us brought it up and so we didn't talk about it at all that night. Looking back, I guess we are all processing the experience in our own personal ways.
That day in Nashville is a day we will never forget. I've listened to A Day In Nashville a thousand times since and every time I do, I feel myself rocking back and forth, my ears wide with amazement.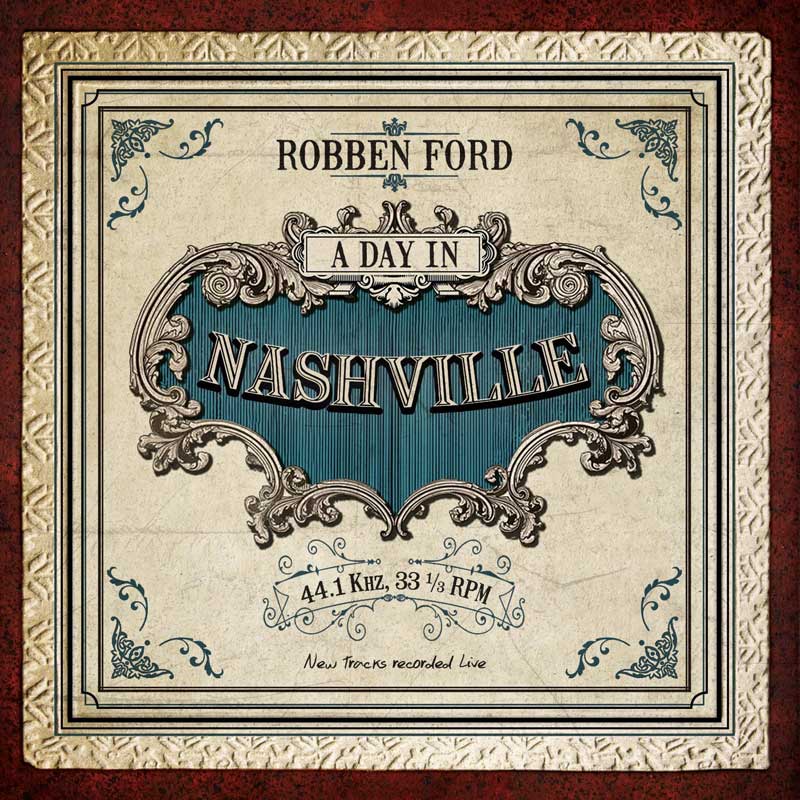 Click tracks to see behind the scenes making of the album!