We've produced over five hundred courses with pro artists and educators here at TrueFire. Our artists come from varying musical backgrounds and walks of life, each bringing a unique skillset to the educational table. One of my roles here as producer is recognizing the different qualities each educator brings before they take the seat and before we start rolling cameras. In every case, behind the glass, one thing rings true; the artist out there is an extremely talented musician with an incredible understanding of the craft. They know their instrument inside and out. But from an educational perspective one of the other things we have to be sensitive to are things like how well they connect with the student through the lens, how well they can nail a solo with three cameras pointing at them, and how clearly they can articulate the fine motor skills that go into making the sounds they create. You'd be surprised at how challenging it really is…the ability to slow down and compartmentalize complex, yet predominantly muscle-memory driven movements.
While personality and skillset varies from educator to educator, from a producer's perspective, most fit into one of two major camps. On the one hand there's the pure academic camp; those that teach at university or make their living teaching private lessons in person or via the cloud. On the other hand there are the pro players, those supporting headlining acts on tour, in studio sessions, or who are the headliners themselves. Don't ask for the details on who's who; the majority of our educators sit somewhere in between (with a few exceptions). At the center of that spectrum…that's the sweet spot for us. Those are the stars that shine the brightest in the educational world. They'll spark your attention with stellar performances nailed in a single take, and they'll teach you what's what with such charisma and clarity you'll be convinced you can master their moves with a little grease. OK, OK, I'll name one name: Angus Clark. He's the real deal.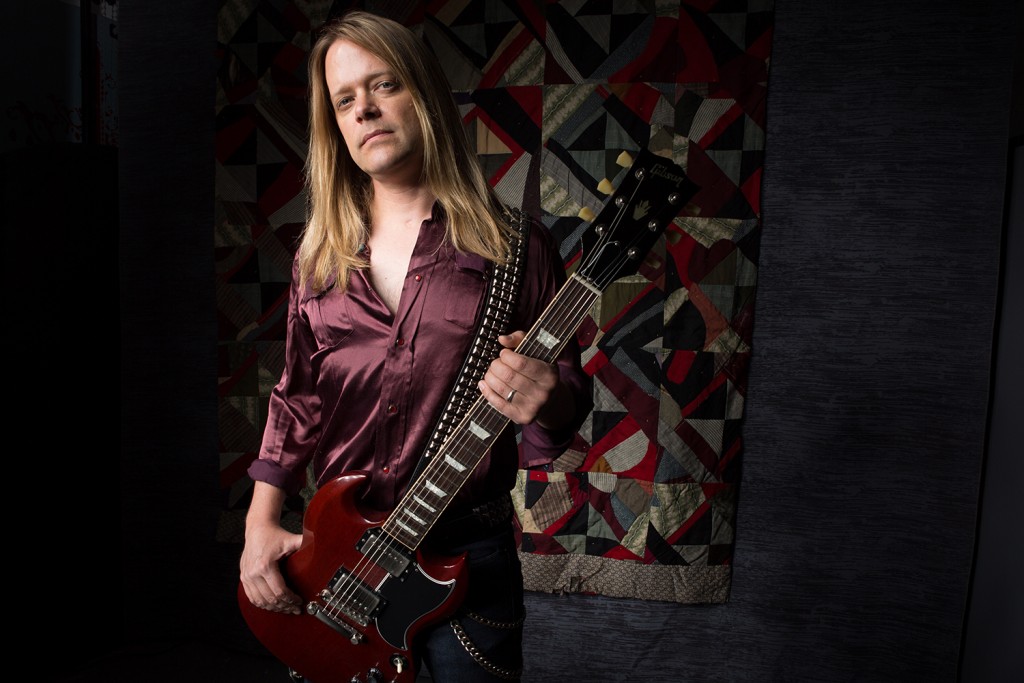 Angus boldly embodies the unabashed stereotype of a modern rock star, while remaining completely authentic to the skill and sound of the style. He's a successful, professional, authentic rock musician in a tough music industry. Avoiding the pitfalls of the career guitarist path, he's built success as the lead guitarist for the Trans-Siberian Orchestra and the Broadway smash musical, "Rock of Ages." He's also helped pioneer an experiential music agency called Song Division, servicing Fortune 500 companies with songwriting-based teambuilding events and entertainment programs.
He demonstrates that being a professional musician isn't simply knowing how to play an instrument, albeit with great mastery. He's mastered the art and culture of rock 'n roll guitar, plus he's able to leverage it as a powerful creative musical business in very dimensional ways.
Last week, we shot two cool projects with Angus. One of them was part of a learning methodology we've developed in house that we call the Play Guitar Series. It's a quick-start beginner method that's very hands-on and innovative (you'll be hearing more about this in the coming months). Angus is one of our go-to guys, so of course, is was natural for him to be included in this project designed for the budding rock guitarist. The other project we produced was another addition to his Radio-Rock line, this one being in the "Essentials" format. 10 radio-worthy rock solos performed, broken down piece-by-piece, and presented alongside tab and notation to keep your rock rig gassed up and ready to roll.
Angus' pedigree in the touring music circuit has also made him the dream of any studio or stage sound engineer. He minds his volume knob the way an English student minds his grammar, constantly attenuating his volume to quell any pickup noise while he speaks or otherwise isn't playing on camera. Watching the way he works his volume knob is an essential lesson in itself, and while many of our educators do mind the knob, few have graced the studio with such sonic sensitivity. He teaches and plays rock guitar the way you want to hear it, never becoming distracted by the theory or focusing more than necessary on the academic aspects of what it takes to make it happen. He'll teach you to play soaring, melodic solos spiced with just enough flash and emotional content to keep you hanging on every note (and he looks 100% the part, too). He comes off confident without being cocky. The guy is a rock star amongst pros, and he's an all-star educator too, straight up.