Musicians are often looking for that "Big Break." If they just get that one magic phone call, gig or contract, it will surely lead to easy street. But sometimes while they are looking for the big break, the little ones can sneak past. But the really savvy cats know that all those little breaks add up!
Angus Clark wasn't concerned with any kind of breaks when he first started out. Well unless you count having his parents come through on his request for a guitar and lessons after watching "The Monkees" on TV. He did point out, "which were re-runs, I'm not that old." That show, along with the Beatles, was his first exposure, but it wasn't until the 8th grade that he says, "I got Pink Floyd's The Wall. That was really the album that made me have to play the guitar. Still is."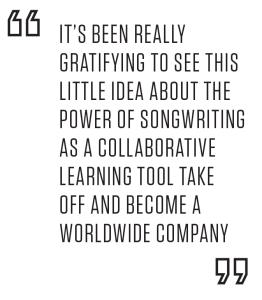 When asked about his career path he says, "My career is best described as a series of little breaks over a long period of time. You get a little break and you foster the connection until it gets you to the next little break."
His first significant little break came in 1994 when he was asked to join new age artist Kitaro's band. As all little break stories go, this one came from an unexpected place. He did a gig in front of about 10 people with a band he was in that probably didn't seem very important to him at the time. However Angus says, "A few days after that gig, I was out seeing a friend's band and I met a woman at the bar who had been at our 10-person show. She worked for Kitaro and said that he was looking for someone who played in the style of David Gilmour and that she thought I fit the bill – I even kind of looked like him. So that's what led to my audition and subsequent 4 years of touring, 3 Grammy-Nominated records, and performances at both Red Rocks and Carnegie Hall."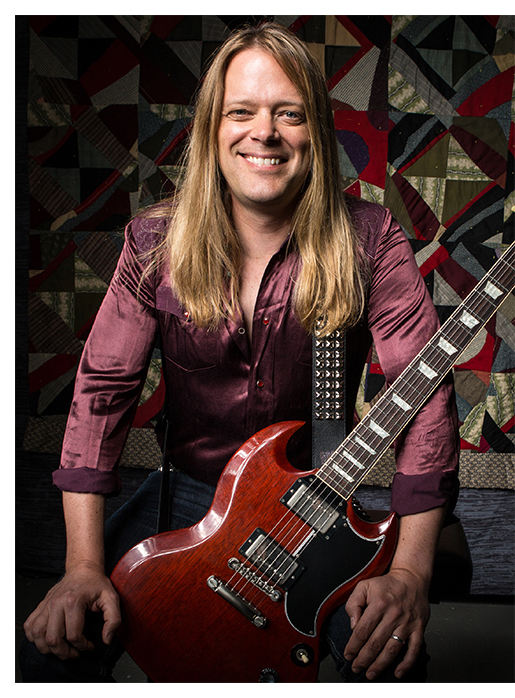 The best part about little breaks is that they usually lead to other opportunities. Every road leads to another road and if you keep taking these, they may even get you to where you want to go. Of course, part of the networking secret is not only being a great player, but a great guy. Here at TrueFire, you get to know someone pretty well and Angus is not only a prepared professional with plenty of guitar chops to spare, but a guy that you dig having breakfast with as you sit on the front porch of the hotel! This great player/great dude combination is deadly when you are looking for that next break.
The Kitaro gig led to Angus getting to know Marty Freidman, and in 2001 when the "Trans Siberian Orchestra" were in need of a guitarist, Marty recommended they contact Angus. He got the gig.  Angus tells me that was a good opportunity, "In 2001 the TSO was a 2 week tour in theaters – sometimes the same exact theaters I had played with Kitaro. So that felt like a little break at the time. It's evolved into something much bigger over time."
Yeah, I think it has. If you have seen the TSO around the Christmas season you know that it has indeed evolved into one of the biggest and most successful touring rock shows out there. As Angus puts it; "Both the story of the TSO and my involvement in it involve numerous little breaks and a lot of hard work that has so far led to 15 years of touring, more than 10 million tickets sold, and a few Platinum albums. So I'd say little breaks are the way to go." Certainly can't argue with that!
Breaks come in various forms, and from various places, sometimes out of necessity. Angus says, "After my daughter was born, my wife put it on me to "get some work in town." Once again friends from the TSO had been to the "Rock of Ages" Broadway show and told Angus it was a cool show. As fate would have it, he was recording some stuff in a local studio and ran into someone who was in the show. Next thing you know a "little break" popped up and he found himself talking to one of the guitar players and learning the material for the show. He says, "It was completely nerve-wracking. The whole two-and-a-half hour show has to be memorized, you have dialogue, people dancing around you, it's crazy. But it is really fun. You can't beat it for a day job."
With a day job like that who needs another gig!? But Angus is not one to sit around, so he is currently finishing up an EP for his band "DareDevil Squadron," and has recently released a book he has written for Musician's Institute, and is, of course, a regular in the TrueFire studios. He is also excited about another project, "The main thing I'm busy with besides the TSO is my company SongDivision. "We have a process that involves non-musicians in writing songs as a group with the help of a professional band. SongDivision is hired by corporate clients to execute this process at large meetings, conventions, or team building events. We have bands all over the world and have run sessions in over 20 countries and in numerous languages. It's been really gratifying to see this little idea about the power of songwriting as a collaborative learning tool take off and become a worldwide company."
So the next time you are sitting around waiting for that "big break" to come your way, just ignore that blur that just goes flying by. That is just Angus grabbing ahold of that next little break that is going to keep him moving onward and upward.