Fareed Haque has been voted the "Best World Guitarist" by Guitar Player Magazine. Of course, that made total sense, but it also got me wondering…what exactly is World Music? According to Webster's dictionary, it's "popular music that is based on musical traditions from different parts of the world and that often has a rhythm that you can dance to." However, a report for the Music Library Association1 declared that it "must have ethnic or foreign elements. It's simply…music which belongs to someone else." Hmmm. More on this later. Back to Fareed.
Fareed certainly has a multi-cultural background. His father was Pakastani and his mother Chilean. He was surrounded by music growing up and says his parents "loved music and had flamenco, Indian music, jazz, rock, and classical music always playing." Plus, he grew up in Chicago and remembers "hearing Muddy Waters live at an early age…it changed my life!" He spent time in Spain, France, Iran, Pakistan and Chile. Those international influences had to shine through.
He recalls his first intimation that he wanted to be a musician from going to a Santana concert with his parents. He remembers smelling a "skunk" in the auditorium. While that may not have been a real skunk, what was real was the way Carlos played. "The way he sang through his guitar to the entire audience was amazing. I remember thinking that I wanted to do that." So he went home and fed his passion. "I just found myself practicing a lot. I mean a LOT. And then the phone started to ring…once I was supporting myself with gigs, I was stuck!"
He studied jazz and classical guitar in college and was soon an in-demand player. His bio reads like a who's who of world and jazz fusion music. You name them and he has played with them!

His interest in Jam bands blossomed because as Fareed says; "I like the connections to dance and groove and culture or HANG! That is such a part of music around the world. Music is at its healthiest when it is connected to our lives through songs, dance, worship and celebration. In the west we have tried to separate music from culture…and to this end we have been (thankfully) wholly unsuccessful!"
His love of the Jam led him to co-found one of that genres best-known group, "Garaj Mahal." After 10 years of touring, playing nearly 200 shows a year, he left the band to pursue other adventures.
What advice does he offer up to someone who has eclectic tastes in music and would like to broaden their musical horizons? How does he approach learning so many different styles? "Each style represents a musical language and a human culture. I try to study the language first, so I try to learn a bit of the spoken language, then some of the percussive language and/or drum instruments, and THEN in the cases where there is a guitar tradition established, do I study the guitar styles and techniques." What about the best way to get started? "Listen and sing the music you love, play songs, songs, songs…and transpose! It forces you to really hear what you're playing."
Just having an ear for it all is just the beginning. Fareed's technique is impeccable. He moves between various styles and technical approaches effortlessly. "When it comes to technique here is the mantra: PREPARE, PLAY, RELEASE. Visualize and hear what you intend to play, then touch the strings with both hands exactly as you intend to play. All of this is preparation! Then play [this is actually the easiest part]. Then relax, release the tension in each muscle. If we could all do this every time, no one would ever make a mistake!"
His world chops are keeping him busy as ever with several CDs due out. "To start with 'In Search of Garaj Mahal' with the Cincinnati conservatory jazz ensemble is out, 'Tony Monaco and Fareed' is finished, the 'Fareed Haque Quartet' CD is done in partnership with NIU, the Classical recording 'Fareed with Strings' in partnership with Chicago classical station WFMT is coming, and the 'MERU Trio' featuring Chilean bassist Christian Galvez [sideman with Billy Cobham and Stanley Clarke] and Indian Percussionist Selva Ganesh [from Shakti] is complete. I'm not in charge of this project, and have no idea when it will be done…but it's KILLIN!"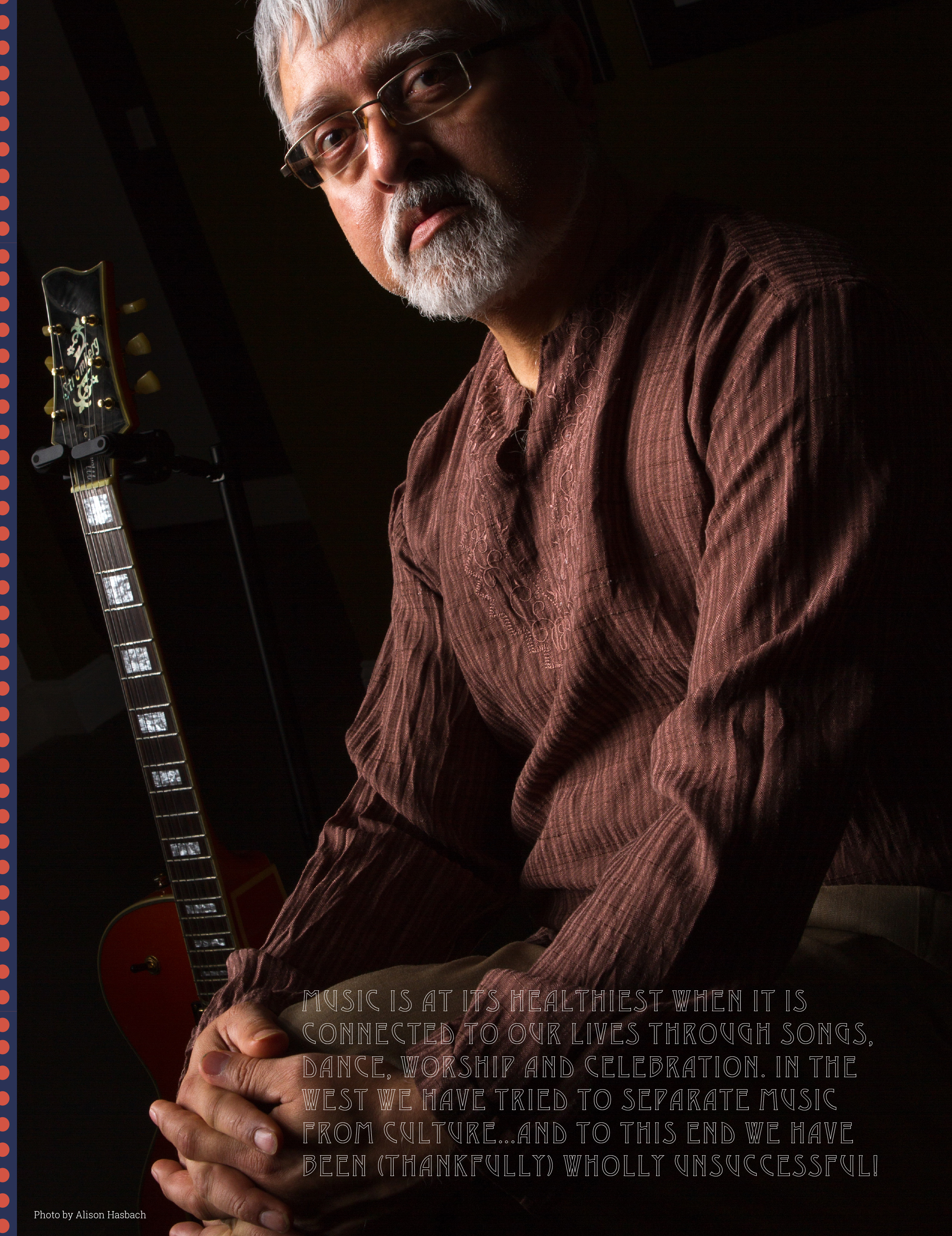 Of course as many great players do, Fareed loves to share what he knows. He is a prolific teacher with several best-selling TrueFire courses and a crazy teaching schedule as well. "I am still teaching Monday through Wednesday at NIU as full-time tenured professor. Then I'm also doing some teaching at WMU in Kalamazoo (MI) this semester as a guest lecturer. For the month of October I am curating/playing a series of concerts with unique world music projects. And I'm working with my friend and Chilean compatriot Javier Sepulveda to bring his audio/visual theatrical music show 'PULSE of NATURE' to Chicago. It features NASA images and anthemic melodic rock with world music elements at planetariums, with 360 sound and film…awesome."
So yes, Fareed is indeed a World Guitarist, but the standard, Wiki-like definitions seem somehow superficial in their scope. Rather, his respect and openness to music from all over the globe, his willingness to share and collaborate with others, his mastery of keys and notes and their application on the instrument, all work to generate a new kind of music. He is making music that belongs to all of us, not just "others". So while that may not have been the intent with his "Best World" award, we sure agree on this side, it's the truth!
1 What is World Music by Carl Rahkonen|Internet Source: http://www.people.iup.edu/rahkonen/Ethno/Readings/WorldMusic.htm