So you have had a few gigs and now consider yourself a "road warrior." Before getting the tattoo, you might not want to compare your grueling gig schedule with Kelly Richey's. You might walk away feeling a bit like Wayne and Garth, "We're not worthy"!
Kelly started touring in 1986 doing 275 shows per year with an Arista records band "Stealin' Horses." That lasted for 4 years until she officially launched the "Kelly Richey Band" and built a local following. Then in 1997, she started touring with her band at a much more reasonable schedule of just over 200 shows per year…for the next 13 years! Yeah, better get your abacus out if you want to keep track. To say she has "been there and done that," may actually be more of a factual statement than a catchy cliché.
I asked Kelly what keeps her out there on the road? "I like the challenge. You never know what's going to happen once you hit the road. Weather, travel conditions, band dynamics, vehicle issues, traffic, and other events you compete against from town to town. I've seen parts of the country I would have never seen, met people I would have never met, woven in and out of cultures I would have never experienced, and become aware of how different, yet how much alike we all really are."
But it sounds like hard work. "Touring is not for everyone, and I can honestly say that I've always found it to be hard and fairly unappealing in many respects; however, I LOVE to play and it's the only way I know to get an entirely new audience each and every night of my life."
Maybe it is that tenacity that has been with her all along. Kelly didn't start playing until she was 15. While she grew up playing piano, it wasn't until she started playing drums that her guitar career emerged. "One day my Dad said to me, 'Kelly, if you quit playing those drums I'll buy you whatever you want!' So, that's when I got my first guitar!" That is some sort of musician's reverse psychology at work!
Back to all that touring, Kelly says the times have changed. "The landscape of music has drastically changed since I first started touring. The club scene is not what it used to be, with the development of 500 cable stations, the internet bringing in so many affordable forms of entertainment into your living room, and artists of all stages of development having access to recording. This fills the airwaves and internet with music, photos, sales pitches, stories and ads. It takes a lot to get people's attention nowadays, and I'm constantly reminded that the most important thing is to be real, be who you are, and share that with your audience."
But as with most worthwhile pursuits, you have to be motivated to do it, in spite of all the odds against you. With this change of the music business comes even more sacrifices if you want to pursue the dream. Kelly shares, "The hard costs of touring have doubled, and in some case tripled! Gas, hotels, vehicle maintenance, and food have all gone up. Pay is seldom guaranteed, but rather based on ticket sales. Often people don't realize that an artist can drive 20 hours to play a show and he or she may not make a dime."
Still that driving force can pay dividends. "For me, touring is about hitting the stage and seeing what I'm made of: as a player, a person, and as an artist." Isn't that what we are all after, to see what we are made of? Many of us have to search for ways to discover that, but Kelly has a spot she can go to night after night to reveal that to her.
Kelly also shares all of her passion and knowledge with her students, and loves the interaction that comes with the educational territory. She lists knowing her students' personal music goals, learning style and natural abilities as the key elements to be explored when teaching.
For her, writing, recording, touring and teaching all work hand in hand. "You need an album to promote yourself, and you need to promote yourself in order to book gigs successfully, and you need to tour successfully to sell records. All that helps you reach students who want to learn to play and perform. In combination with performing and recording, teaching is woven into most days of my life."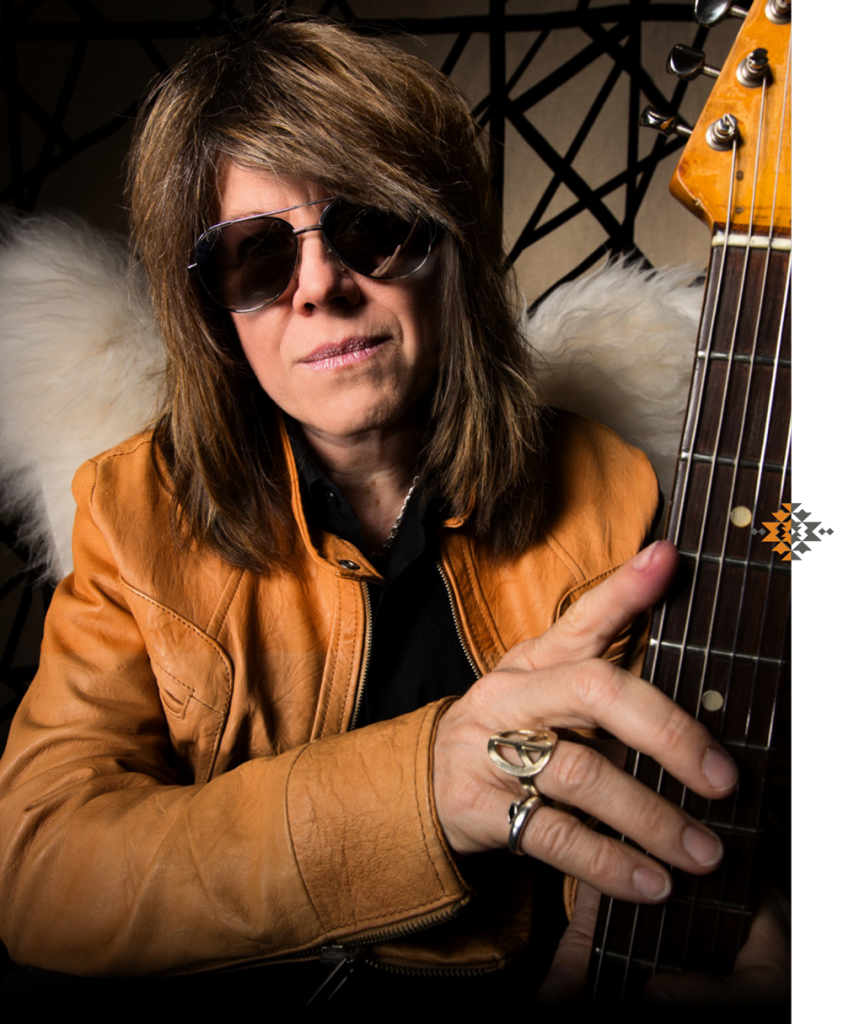 And perform she does. Kelly has just released her 16th album titled Shakedown Soul. She plans to hit the road with both her band and a solo show. "I have an amazing band, a fresh new sound that blends electronica, funk, hard rock and blues, and I have a new record that represents the best work I've ever done. I'm already starting to get booked up for 2016 with band shows and solo shows, so I'm very excited to see what's in store for all of us!"
Lots of hard work and dedication, never ending schedules, and non-stop creativity make up Kelly's world. Is it all worth it in the end? "I can honestly say, it's worth it, but in the middle of a snow storm in North Dakota with the highways shut down and no Starbucks in sight, some days I do question
my choices!"