The Beatles' I Want To Hold Your Hand resonated in the ears of 211-million people around the world after its release in November 29th of 1963. 18-million of those listeners rushed out immediately to buy their first guitar. 2.4 million of those people went on to join or form bands.
240,000 of those players honed their playing skills and forged successful careers as professional musicians. 1,750 of those guitarists achieved varying degrees of fame for their contributions individually or collectively to the evolving landscape of popular music history.
But only one of those young inspired listeners possessed the tenacity, passion, discipline and creativity to take his guitar craft to the very top of the mountain in such a distinctive and remarkable way. His fans call him LJ, short for Laurence Juber.
LJ was getting paid to play at age 13, while most of us at that age were mowing lawns and delivering papers. He became a featured soloist for England's National Youth Jazz Orchestra and subsequently earned a music degree at London University while playing guitar for Jesus Christ Superstar and other musicals in London's West End. LJ played lead guitar on the Academy Award nominated soundtrack to The Spy Who Loved Me. In 1978, Paul McCartney asked LJ to tour and record with Wings for three years.
LJ moved to the States after the Wings gig and quickly established himself as a top session player, composer, and arranger contributing to hundreds of albums, movies, plays, and TV shows. LJ released 23 solo albums of his own, won two Grammys amongst a host of other awards including Fingerstyle Guitarist Of The Year. In short, you'd have to have been living off the grid in Alaska to not have heard LJ's work on the radio, Internet, TV, or in the movies.
I heard LJ play live for the first time at a Chet Atkin's convention many years ago. We were filming and I had the hand-held camera up front and center. I was so enthralled with his performance that I kept taking my right eye off the viewfinder to get a better look at LJ with both eyes, forgetting all together that I was supposed to be capturing close-ups. Talk about shaky cam! If you've experienced LJ live, you'll understand.
We interviewed LJ later and, not so surprisingly, found him to be highly intelligent, singularly articulate, and exceptionally passionate about all aspects of the music arts. Naturally, I begged him on the spot to collaborate on an educational project with us as it was clear that he would bring an insightful perspective not currently present in our library.
We waited more than five years for that first session to happen and "well worth the wait" would be a gross understatement. LJ's Guitaristics: Rhythm Edition presents the 16 key concepts and techniques that comprise his rhythm method. Considering the pedigree of that rhythm method, Guitaristics should be a required course of study for every guitarist, pro or hobbyist.
There's no "best" guitarist, but if there were, one would have to consider the guitarist's contributions to the history and evolution of music, their artistic and professional achievements, their experiential background, their mastery of the instrument, and the aesthetic aspects of their music. I can count on one hand how many guitarists would make my personal list of contenders for "best" guitarist and I couldn't imagine LJ not being present in that count.
Certainly, no one does it better.
---
What is it about the guitar that attracted you to it originally, and still fascinates you today?
When I was 11, a friend of my dad's showed me an F major 7 chord, which was the most gorgeous thing I'd heard. The coolness factor of Hank Marvin on TV playing a Stratocaster made a great impression on my pre-teen sensibility too! Then there were The Beatles…I fell in love with the tactile intimacy of this iconic instrument that is capable of producing a complete musical statement over such a wide range of style, genres, tones and sonorities. I still keep discovering things about it.
Your idea of happiness?
Being in this constant state of musical grace…I get to play guitar, make music, work creatively and all in the context of a happy marriage. On a more mundane level – getting TSA Pre-Check and an upgrade on my flight; seeing my name spelled correctly on recording credits…
Whether living or dead, who would you like to have dinner with?
That would be a very big dinner party…the guitarist table alone would be Lonnie Johnson, Eddie Lang, Django Reinhardt, Julian Bream, George Harrison, Barney Kessel, Jeff Beck…the list goes on.
Name three things a player can do to improve their musicianship.
Practice, practice, practice. First, be a musician and understand the substance of music. The guitar has multiple locations for notes, plus even more, if you venture out of standard tuning. Being aware of the musical meta information and not simply relying on geometric shapes and muscle memory to navigate the fingerboard. Explore different fingering possibilities. Listen to and study music of all kinds to gain a broad understanding of style and learn from virtuosi on other instruments.
If not yourself, who would you be?
That's hard to wrap my brain around. After 60 plus years, I've come to terms with who I am, so it's tough to imagine being someone else.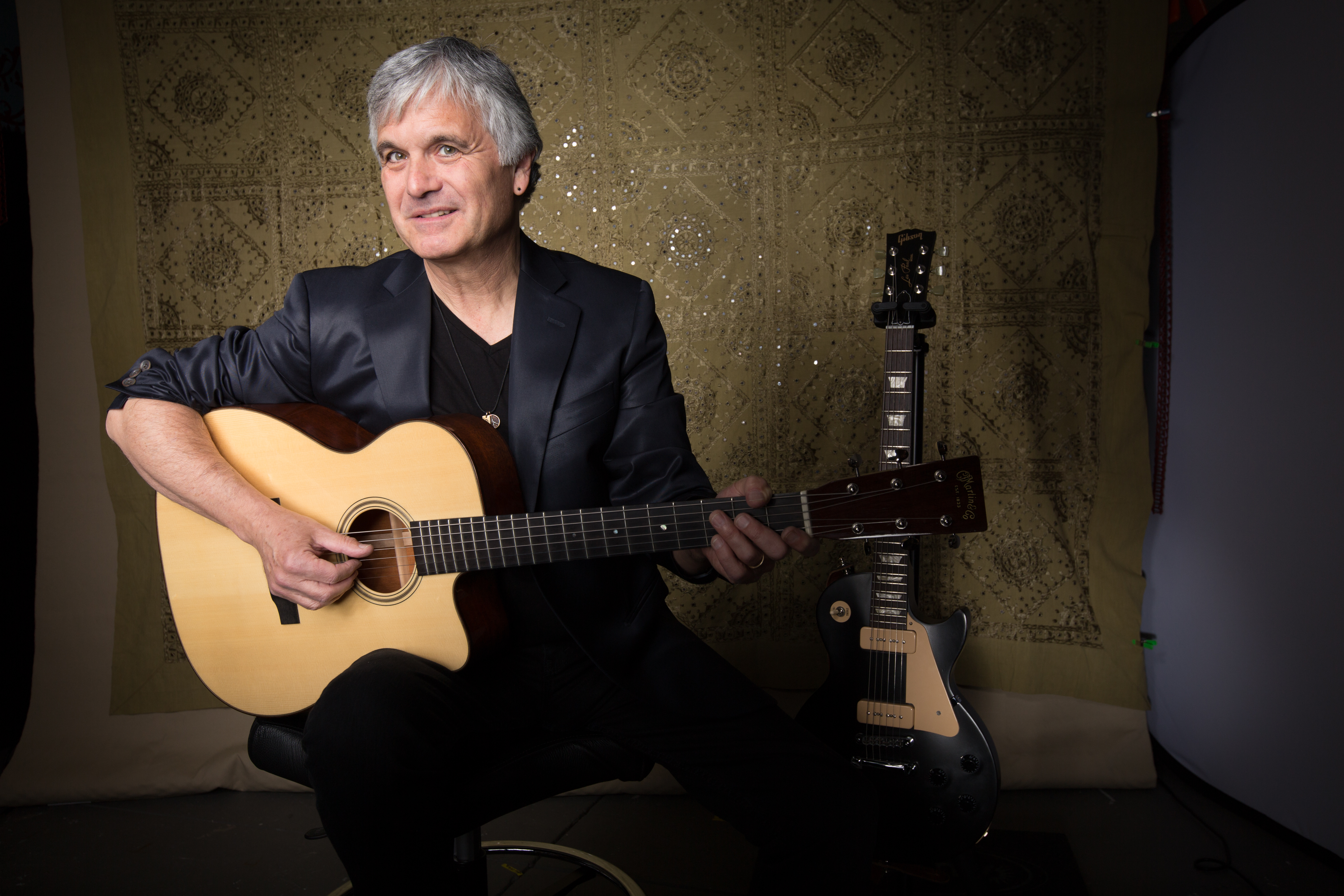 Given the changing business landscape of the music business and how tough it is to sell records etc. — what are the positives about the current evolution of the music business?
The big positive is that performers are getting decent financial rewards in the digital music space. Sadly, writers and publishers are not. It's a wild frontier, but eventually it should eventually stabilize into a consistent business model. Digital distribution is quite streamlined and now anyone can release a recording. The challenge is to get the attention of the gate-keepers and curators of the various services and reach the global audience.
On the independent artist level, physical records are still of value. I just released an album of improvised piano/guitar duets, Musings, with film composer William Goldstein. Stylistically, it's almost neoclassical, with only minimal reference to jazz or blues improv. It's a digital-only release and I quickly realized that it limited my opportunities to send a promo copy to radio or to reviewers.
I'm releasing a Christmas album Holidays & Hollynights in September – it's my trio with upright bass and drums. Even though it's primarily intended as a digital release, we still made CDs for promo use and concert merchandise. Audiences still want to handle a disc…something tangible that sits on a shelf, rather than as bits in a digital "cloud."
Your favorite motto?
"This process is a process."
What do you dream about? Literally.
I'm terrible with remembering dreams. My wife Hope dreams entire movies with credits! I'm lucky if I remember any vague detail. Day-dreaming is another matter. When I was a teenager, I'd imagine myself playing with The Beatles. I ended up playing with three out of four, so I can say that my dreams have come true 75% of the time. On the macro level, a peaceful and just global society.
What are your aspirations?
To become a better musician, a more accomplished guitarist, composer and arranger. I've become increasingly interested in improvisation, a skill that has been largely lost in the classical world. I enjoy the creative process and working collaboratively with other creatives, first of whom is my wife Hope. I aspire to continue to be able to make music and reach people who are transformed by it.
What one event in music history would you have loved to have experienced in person?
The premier of Beethoven's 5th symphony. The debut of Stravinsky's Rite of Spring. The Beatles first EMI session. Chas Chandler's reaction to seeing Jimi Hendrix for the first time. The "God Only Knows" recording session.
Your favorite heroes in fiction?
James Bond. But seriously, I read biographies, so I tend not to go for heroics, as much as being inspired by people overcoming adversity and those moments in life when the stars align.
What or who is the greatest love of your life?
Hope and my family. Being a grandpa is an amazing experience.
Your favorite food and drink?
I love a really sharp Cheddar cheese. Goes nicely with a great old single malt whiskey. We live in Studio City with dozens of great restaurants within walking distance – Indian food is hard to beat.
In your next life, what or who would you like to come back as and why?
A keyboard player! I wouldn't trade my life as a guitarist, but being a better pianist would have been a helpful skill.
The natural talent you'd like to be gifted with (other than music)?
There's something therapeutic about music. Being a naturopathic practitioner of some kind would be a gift.
In life or in music, what is the one central key learning that you'd like to pass on to others?
Stay in the moment.