A rite of passage for all aspiring blues guitar players occurs when they first move beyond their primary influences and discover the guitarists that influenced their heroes. Like many in my generation, I discovered blues through the recordings of the electric blues and rock guitarists of the mid-late 60s: Eric Clapton, Jimi Hendrix, Johnny Winter, Mike Bloomfield, Duane Allman and Dickey Betts, along with B.B. King, Albert King and Freddie King. I soon learned that all of these guys had studied the pioneers of acoustic blues guitar–Robert Johnson, Blind Willie McTell, Blind Lemon Jefferson, Lonnie Johnson—as well as the progenitors of electric blues guitar—T-Bone Walker, Elmore James, John Lee Hooker, Muddy Waters, Howlin' Wolf, and many others. Another towering figure of blues guitar mastery is the great Lightnin' Hopkins, who influenced all of these players and continued to make vital, essential recordings till his death in 1982 at the age of 69.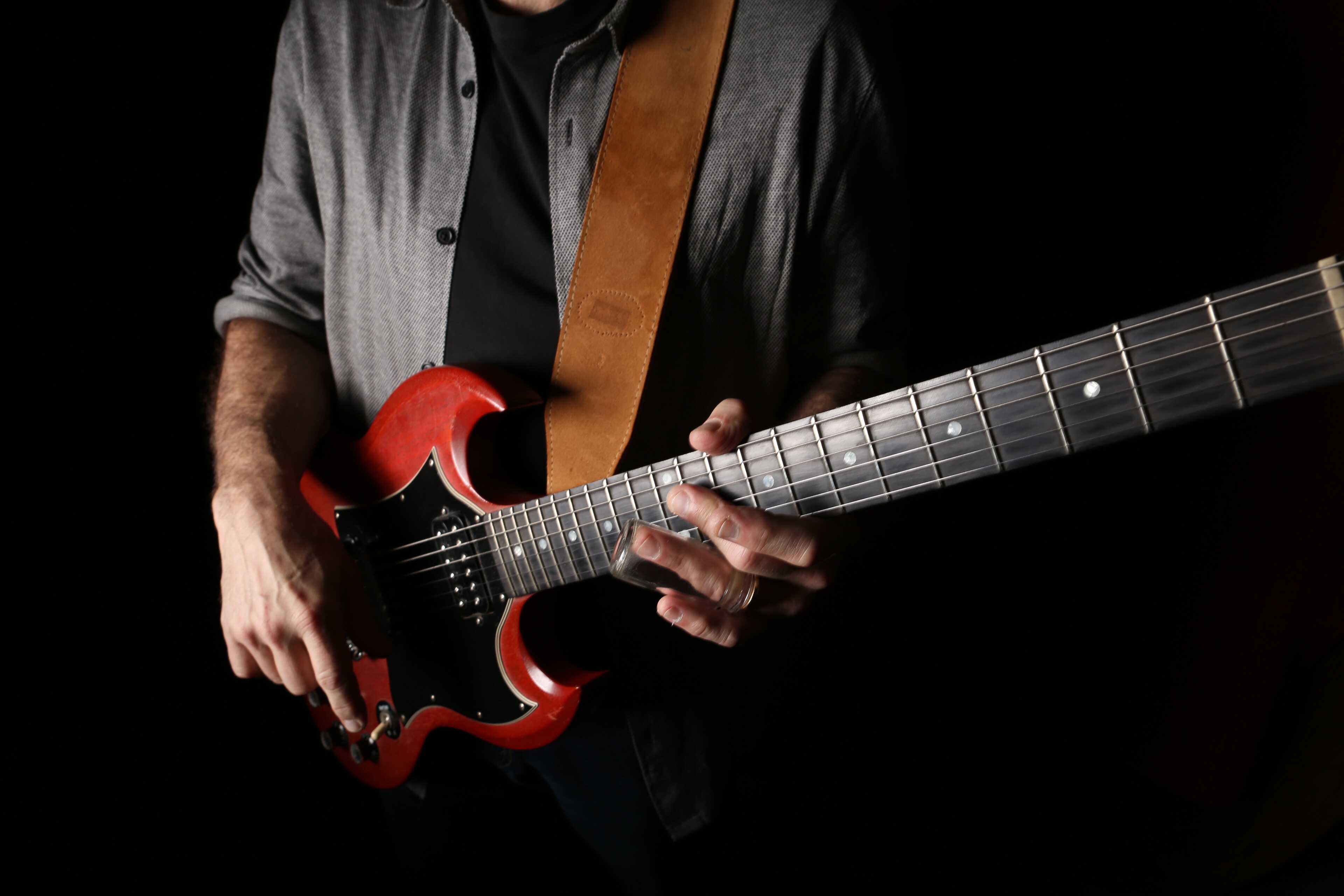 There are dozens of incredible Lightnin' Hopkins recordings; for the uninitiated, a great place to start would be, "T-Model Blues," "Mojo Hand" "Katie Mae Blues" and "Got a Letter This Morning," all blues shuffles (essentially) in the key of E. When listening to these songs, it is clear that Jimi, Johnny, and Stevie all studied and learned Lightnin's musical vocabulary and incorporated his approach and phrasing in their own licks and solos.
The accompanying musical examples bridge the gap between Lightnin', Jimi and Stevie. As you play through them, think about how these licks might sound different when played with the sound and articulation of each of these very distinctive players.
Riff #1 is based on the E blues scale (E G A Bb B D) played in "open" position (using open strings): I begin by sliding up to B, the fifth, on the G string, followed by D, the dominant seventh on the B string and then the open high E string. This stock blues phrase is also found at the start of Riffs # 2, 3 and 5. On beat two, I substitute G#, the major third, for G, the minor third; the phrase then moves back down through the scale and, in bar 2, wraps up with lines that move between the bottom three strings.
In Riff #2, I begin by sliding up to the full E7 triad, after which the top two notes of the triad are played against the open high e and B strings; this two-note shape then descends chromatically through bar 2.
Riff #3 offers a twist on this idea by ascending chromatically instead of descending: bar 1 of the riff is the same as Riff #2, but in bar 2 I ascend one fret at a time, wrapping up with a fifth-position E7 voicing followed by a shift up to 12th position.
Riff #4 is akin to blues phrases used frequently by Jimi and Stevie in many of their solos: bar 1 of this phrase is rooted in the third position of the E blues scale, and ends with a slide down to first position.
Riff #5 is built from a repetition of the initial three-note lick through bar 1, followed by brief reference to the four chord, A, on beat one of bar 2, via the use of the notes of an A major triad, C# E A. This phrase then wraps up with E blues scale licks played in fifth position.
Be sure to check out my expansive blues soloing instructional courses: Slow Blues Power, Progressive Blues Power and Slide Guitar Power for a thorough examination of how to learn and then build on the essentials of blues guitar soloing.