My father studied art in Florence, Italy. We moved there shortly after I was born and stayed until he graduated five years later and moved us all back to the US in Greenwich Village, where he opened a small studio on Bleecker street. Italian was my first language, and I too studied art for many years thinking I'd follow in my father's footsteps.
I was a poor art student and failed art history I don't know how many times. Nonetheless, I've always been drawn to the old Italian masters in particular. DaVinci and Michelangelo of course, but also Botticelli, Donatello, Bernini and so many other Italian artists of those times. I can't intelligently discuss their work or their lives (failing art history class), but their work and their passion for their art resonates with me on some deep inexplicable level.
Another Italian artist that fascinates me for many of the same reasons isn't a painter and wasn't born several hundreds of years ago. His name is Massimo Varini and his passion for music and life shines as bright as any of the aforementioned old masters.
I first heard Massimo perform on acoustic guitar at the Soave Music Festival, an intimate gathering of Italian and American guitar players. The festival was staged annually by Pierpaolo Adda in the town of Soave, just outside of Verona (of Romeo and Juliet fame).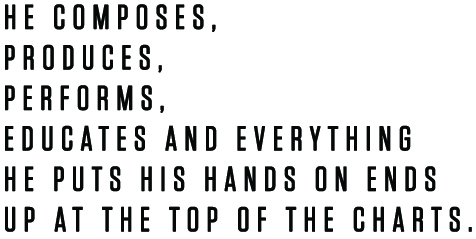 Massimo played original compositions in sync to short films that he had also produced. The performances blew everyone away. The next day, we had lunch at the local pizzeria and explored ways to work together, distance and language being the primary challenges.
I remember two things about that lunch. The pizza was incredible and Massimo was instantly likable. We talked about our shared passion for music and education, but other than that, Massimo really didn't talk about himself. We joked about the "blah, blah, blah" that usually occurs at events like those where people meet, but then fail to follow up with each other. We finished our pizzas and returned to the festival activities.
The more I learned about Massimo, the more intrigued I became. A quick Google revealed that not only was he one of Europe's top session players on both electric and acoustic guitar, he was also Italy's most popular and successful educator.
Massimo's credits span 45-million records sold and two Grammys. He's played and collaborated with a veritable Who's Who of European artists. He composes, produces, performs, educates and everything he puts his hands on winds up at the top of
the charts.
Not a peep of any of this during our pizza lunch. So, I have to add humble to the long list of qualities that we love about Massimo here at TrueFire.
He's visited our studios twice so far, and both projects are stellar educational experiences, which we are very proud of and which students rave about. So, no "blah, blah, blah" here!
We've shared many meals and glasses of wine (try Amarone, Primitivo, Syrah and Sangiovese!) since that first lunch and with each new encounter my respect for who Massimo is as a person grows and grows.
Massimo tells us that his father was his biggest fan. Tragically, he passed away during the sound check for Massimo's very first gig as a professional. "It was so hard for me to play that night, but ever since, I feel my father with me on stage every night."
I asked Massimo what he felt were the most important principles to practice as a professional musician. "Always give it your maximum commitment, even if it's a simple, easy session. Always be punctual. Never speak ill of others. And make sure your instruments are fully and perfectly functional."

One of the things that always interest me is asking musicians what they think about the changing business landscape of the music business. Massimo's response was refreshingly positive, "Usually, the negative sides are also the positives sides and vice-versa. The Internet has enabled many more people to try their hand at music. The earnings are now different, but, by its very nature, it allows for tremendous freedom. However, one thing will never change: creativity is always the most important thing. Continually seeking new ways to showcase your creativity is the foundation for success. And if, for some reason, the project doesn't turn out to be a commercial success, it will still be something you can be very proud of.
I also think that a musician has to think about his skills and try to become better every day. This means studying, listening to music, watching TV and surfing the web to understand where the music is going. It's important to have an open mind and think daily about improving one's skills."
Even though the electric guitar is Massimo's main instrument, his passion for the acoustic guitar is infectious, "I really love to play live with my acoustic guitar. When I'm on stage and I play my songs, I'm telling a part of the story of my life. I like to meet people, to get energy and emotions from them to write about in my music."
I asked Massimo what he would be if not a musician, "I like the countryside, especially animals…perhaps a farmer. But I also really care about the environment, and so I'd find being an alternative-energy engineer would be very interesting. Whatever I did, though, it certainly would have to be centered on my main philosophy: try to do things right, with all my being, and with respect for others."
Our friendship grows with every new project and so it's an honor to introduce him to you here in this edition of RIFF. I leave you with this last bit of advice from my fascinating Italian friend …
"Se sei il primo ad accontentarti, sarai il primo a doversi giustificare." Loosely translated, it means that by being the first to settle and make excuses to yourself, then you'll certainly be the first one who has to explain those bad choices to others. Never settle.