Some players you can just passively "enjoy" as you watch them. Then there are others that you can't help but very actively say "HOLY SMOKES" when you watch! Andy Wood falls into the latter category. Whether he's playing tasty blues licks, chickin' pickin' country tunes or outright shredding on heavy rock — Andy's technical prowess and musical awareness isare undeniable.
And oh yeah…he did all that BEFORE he even
discovered guitar!
Andy says he started out on mandolin when he was just 5 or 6 years old. He played in a "family band" with his grandfather and cousin "hitting all of the bluegrass festivals," he says. This early gigging and playing the mandolin paid off as he finished second in the Winfield, Kansas championships when he was 16.
But the guitar…what about the guitar? Was there a moment when the six-string grabbed his attention? "Yeah, I remember the 'it' moment for me was hearing Brent Mason's solo on 'Pick it Apart' on the 'Nashville Cats' record."
Andy credits the mandolin with helping shape his guitar playing. "I think it is absolutely where my right-hand technique comes from, and for improvising and writing, I think it influences those really linear type lines. I guess I just hear stuff that way in my head due to coming from fiddle tunes and bluegrass." He also believes that all guitar players could benefit from taking up another instrument. "We can take for granted where we are on our main instrument, it's a good thing to pick up a new instrument and let it humble you. HA!"
From his beginnings in the family bluegrass band, to his own band's gigs featuring instrumental rock, and even playing as a sideman with mega country band Rascal Flatts, Andy has shown his versatility. He says the common element in all those gigs is "seeing an audience member that is truly happy and having a great time. That's worth it all."
But when asked if he has a favorite style of music to play he says: "Nah, no favorites, I just really enjoy so many different styles of music and so many different genres. I can't pick one!"
As a teacher, Andy has a very friendly teaching style. It seems like you are just sitting there having a conversation with him. He says about his teaching philosophy, "I think I just teach from the concepts and ideas that were instilled in me when I was young, I also just try to convey ways to make the most out of things you already know."
His TrueFire course, ShapeShifter, showcases his ability to take something simple and then by slight adjustments, make it fit into different styles. This is no stretch for Andy, because a look through his playing history will show you that this is what he's been doing since he
was 5!
He offers some great advice for anyone who wants to improve. He suggests students spend their time "focusing on note quality, tone, precision and 'intent' instead of just picking up the guitar and noodling through things. Also, listen to music, listen to lots of different styles, hearing completely different things and having a varied musical diet is just as important as hands on the instrument!"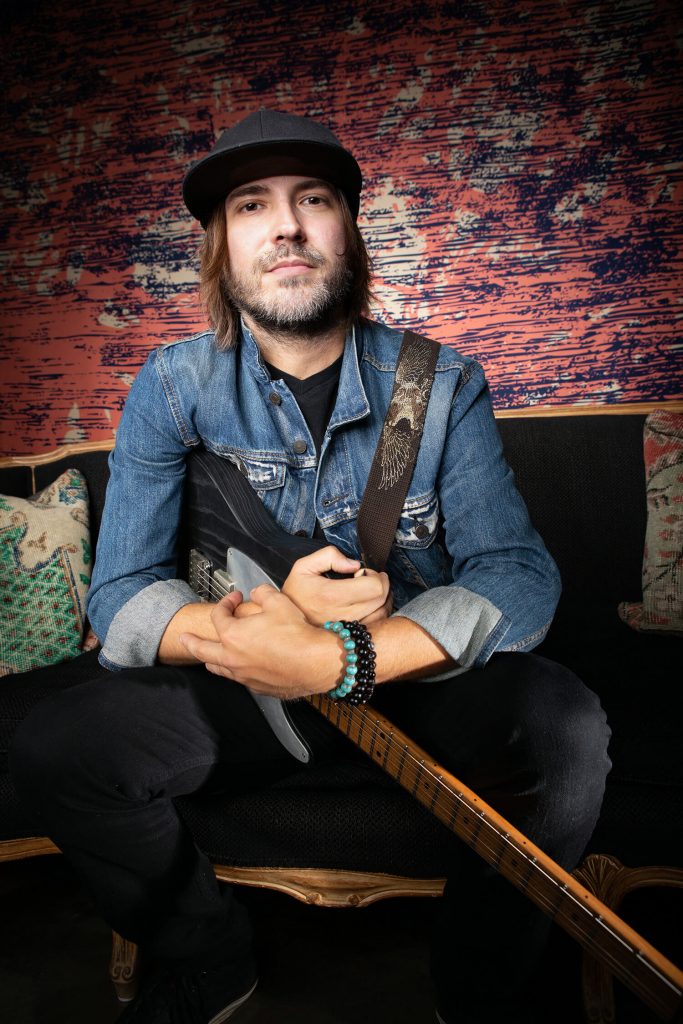 As is to be expected, anyone with the chops, versatility, and experience that Andy has, will have a lot of opportunities. He stays busy with a variety of projects, including a new record. "It's called JUNKTOWN and I can't wait for everyone to hear it! It's 10 songs, all instrumental, it's my 3rd studio album and my 4th album (I did a live album last time). It has got some really fun music on it, and the tunes are melody focused. That's not to say there isn't any crazy technique stuff, cause I suppose as long as I can do some of those circus trick things I guess I will. Ha! But honestly, I wanted songs that were memorable that people get stuck in their heads. Who knows, maybe a focus on it could be a TrueFire course in the future!?"
While the big gigs and accolades as a top guitarist may seem like a long way from the humble beginnings of playing mandolin with your cousin as a little kid, when you have the genuine love for music that Andy does, maybe it isn't so far after all.