As part of our Back to School promotion this past August, we asked TrueFire Students to put their creative writing skills to work and be a "Teacher's Pet" by writing a few reviews about their favorite Course, Educator, Workshop, or Classroom. Choosing the four winners, each of whom received a brand new Apple iPad Mini for their efforts, was no easy task, but after careful deliberation amongst the TrueFire Staff, we were able to narrow it down. Check out the winning reviews:
---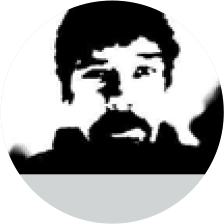 Student Review of the Course 50 Modal Licks
(Submitted by John Staley)
"Robbie Calvo's 50 Modal Licks You Must Know has turned out to be one of the most important contributory factors in my personal advancement, reflecting broadly in my professional style as a career musician.
Other guitarists are always wanting to know what it is that I'm doing because the modal sound sets my leadwork apart from everyone else's. They regularly make comments like, 'I've heard that sound before but could never figure out how to do it', etc. You can study modes theoretically (and you should; Robbie has other great courses on that) but you really need to internalize the way these examples interact across the backingtracks. It's important to make these modal sounds your own and to combine them; taking little snippets apart and rearranging them at will. This course will give you the vocabulary you need to put your modal phrases together.
Robbie gives you licks for each of the seven diatonic modes (no melodic minor modes; waiting for Robbie's 50 Licks on that!), played across a modal chord progression; then breaks each move down very explicitly; and then you can practice it to the backing track until you get good at it and have it internalized. Now the fun really begins: you take them out into the world and start applying them. This is where you begin to discover just how powerful this modal thing is. You may discover, like I did, that your style will change forever. Robbie is one of those special educators that you will enjoy learning from."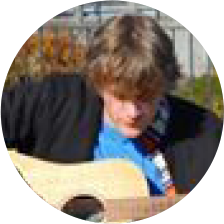 Student Review of Educator Brad Carlton
(Submitted by Mark Connelly)
"Brad Carlton is not, as TrueFire would have you believe, a human being. He is a cyborg sent back from the year 2269 to raise an unholy army of shredders, rockers, blues benders, boppers and jazzers. With the air of sports fanatic casually relaying a crucial play in a game, Brad unlocks the mysteries and secrets of the fretboard and puts them directly into musical application. He is one of the great ones. Fear Him!"
Student Review of the Workshop Guitar Interactive: Rhythm
(Submitted by Kristen Hart)
"Robbie Calvo's teaching has changed the trajectory of my playing chops! His clear, precise instructional methods with incredible backing tracks, have helped me become a better musician in every way! The Guitar Interactives: Rhythm Workshop helped me not only become a better 'jammer' in a variety of genres, but a better soloist. By learning how to play a variety of more time signatures and percussive styles, I'm able to solo within and around the groove. Thanks, Robbie."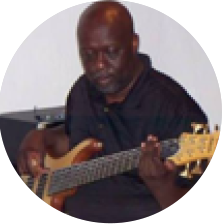 Student Review of Classroom Guitar Babylon
(Submitted by Dwane Woodard)
"I have hired and fired A LOT of guitar instructors. Signing up for Rob Garland's Guitar Babylon Classroom was, in my opinion, going to be another waste of time where the instructor had this long drawn out method designed to impact your wallet more than your playing skill. The TrueFire risk-free guarantee made me at least want to try it. Within the first two lessons, I was hooked. Rob is taking a two-pronged approach – rhythm and lead. The first rhythm question began to tighten up my comping and understanding of rhythm, while the approach to playing lead has helped me develop my style. At the end of the day, I don't sound like Rob, I sound like the player I want to be. Rob's responses always incorporate what I'm trying to do, and some ideas on how to get there. I highly recommend this Classroom. Rob's passion for music, desire to teach, and encouraging attitude has really helped me grow in a short time…I can't wait to see where I will be a year from now!"