B for Bennett. Stephen Bennett — the Tenacious B. I'll explain the "tenacious" thing in a moment, but first let me set the stage.
I attended my first Chet Atkin's convention years ago. The Sheraton Music City hotel in Nashville was brimming with fingerstyle guitarists young and old, pro and amateur, teachers and students alike. Five or six meeting rooms featured a daily schedule of performances and workshops while the lobby and hotel suites accommodated groups of players jamming and sharing their favorite licks, tricks and fingerpicks.
In the evening, they opened the dividers between the smaller meeting rooms to form a large concert hall where top world-class artists performed for everyone in attendance. All of it celebrated the life and music of Chet Atkins, the godfather of fingerstyle guitar and everyone's primal source of inspiration.
I'm not a fingerstyle guitarist (working on it though!), but I remember feeling like Indiana Jones discovering riches beyond his wildest dreams. Everywhere you turned someone was doing something so incredible on guitar that your eyes and ears couldn't process quick enough what they were seeing or hearing.
There was one particular artist that stopped me in my tracks and put me into a catatonic state of wonder. His music drew me in from the hall. He was playing this strange looking instrument with two necks and, God knows, how many strings going this way and that… looked like something from the Byzantine age. But the music he was making tweaked every emotional sensor in my being. I'd never heard anything like it and won't even try to categorize it by style (the artist can't even do that himself). I can tell you that his music literally intoxicated me then and continues to do so to this day.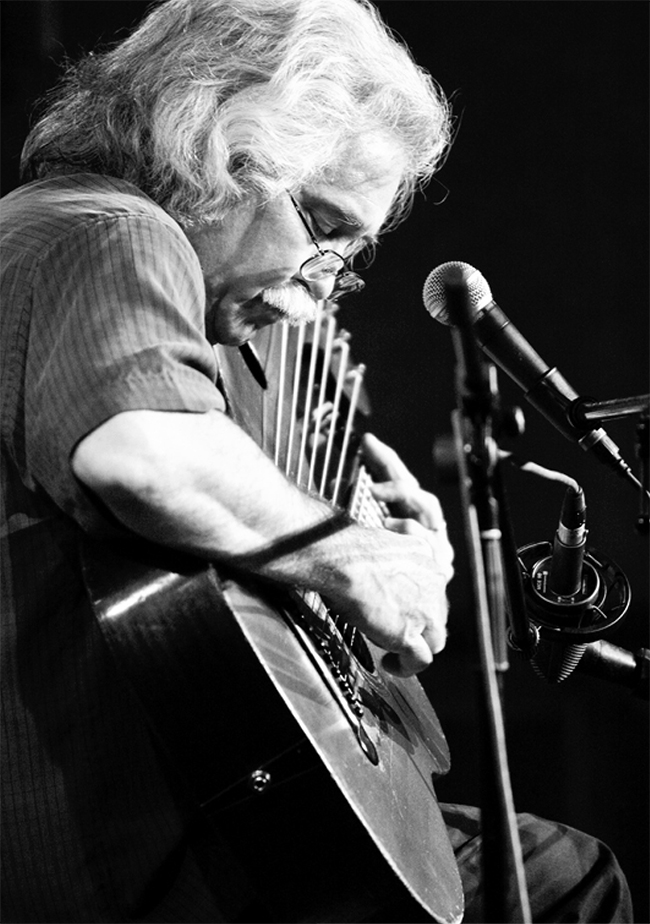 The artist's name? Stephen Bennett. The instrument he was playing? Harp guitar. His music? Pure magic.
I introduced myself to Stephen after the show. We both had big heads of silver hair with matching beards and that helped break the ice. Not that the ice had to be broken because Stephen couldn't be cooler, easier to talk to, and more genuine. I took to him immediately and begged him to do a project with us. He said yes!
We did several projects together including two on harp guitar. Consummate pro in the studio, such a pleasure to work with, and we had tons of laughs and deep discussions about the universe at large along the way.
OK, lets get to the "tenacious" part…
Although he rarely flatpicks today, Stephen was the National Flatpicking champion many years ago. You can only imagine what it takes to get your chops to that level, and why I would consider that "tenacious."
He then taught himself how to play fingerstyle guitar and today is not only a master fingerstyle player, he's also a prolific and highly acclaimed fingerstyle composer and recording artist. Tenacious.
He inherited his great grandfather's harp guitar and then taught himself how to play, compose and perform on that instrument as well. Today, Stephen is highly respected as one of very few world-class harp guitar masters. Tenacious.
Since 1988, Stephen's recorded dozens of albums over the years…easily twice the number of any of his peers. All of his albums explore various musical interests and themes (two of my very favorites are IN-A-GADDA-DA-STEPHEN and TEN, but please don't start or stop there!). Tenacious.
Speaking of albums, Stephen recently recorded the entire Nutcracker Ballet, performed by a guitar orchestra comprised of seventeen different acoustic and electric guitars, all of which he played himself. He spent two and half years working with the conductor's score to perform and record everything you hear the orchestra play. Tenacious.
Stephen's had four major operations in the last 6 years: both kidneys were removed; he received a kidney transplant; he had major back surgery; and major hand surgery. During those six years, Stephen composed and recorded eight new albums and filmed three monster interactive instructionals. Tenacious indeed.

His style is very pure – just him with the guitar and a mic in front of him. He doesn't need any more than that. – Tommy Emmanuel

I had planned to focus this article on Stephen's Nutcracker Ballet project, but shifted gears along the way because I'd rather turn you on to an artist that I consider to be a bona fide genius and remarkable human being. If you play guitar, Stephen Bennett deserves a permanent location on your radar screen.
I am not the only member of the Tenacious B Fan Club. Tommy Emmanuel was asked to name what he consider to be "essential acoustic guitar albums" and naturally, Stephen's name popped up…
"I love what he does on this album (TEN). The playing is great, everything is beautifully recorded, and Stephen's compositions are tremendous. His style is very pure – just him with the guitar and a mic in front of him. He doesn't need any more than that. If you listen to this record, it's another lesson in making melodies and chords work together. There are some great subtleties in his playing, and I love the silence in his left hand – he's very quiet when he plays.
There are a couple of songs on this album that, every time I listen to them, I repeat them three or four times – they're that spectacular."
Before you rush off to check out Stephen's website and pick up a couple of his albums, I want to share one more reason why I respect Stephen as much as I do. I asked Stephen how he would define success…
He replies, "For me, success is not about selling millions of records. If money was important, I would have picked a commercial niche and stuck to it. Success for me is being able to play the music I like to play, to earn the respect of my peers as someone who plays the instrument well and composes well, and most importantly, for being able to be a big part of my son's life. By that definition, I could retire right now."
In 2012, Stephen's "peers" – a veritable Who's Who of acoustic guitar – surprised him with a tribute CD presented at the 10th Annual Harp Guitar Gathering. It was comprised of tunes written expressly for Stephen, cover versions of favorite Bennett tunes and special dedicated selections – with a grand finale featuring nearly sixty SB fans playing (mostly harp guitars) along with one of Stephen's original recordings from 1999.
Yes Stephen, you could retire right now. But you won't and we all thank you for that.