I remember the first time I saw Andy Timmons live. It was at a NAMM show, at the Ibanez booth. Frank Gambale was doing a demo and asked Andy to get up and jam. Most "NAMM jams" turn into a "head-cutting" contest with players seeing who can out-shred the other guy. Frank soloed first and, of course, played searing lines, ridiculously fast economy-picking arpeggios and, in general, just churned out mind-boggling, technically crazy lick after lick. When he was done, it was Andy's turn to play. Many of the folks gathered 'round looked with anxious eyes and angst of "how can you top that?" I'm pretty sure nobody wanted to be in Andy's shoes. But Andy simply turned his guitar up and laid into one of the most soulful bends you could imagine, followed by a smooth, melodic, slow building of notes that made the perfect statement. The statement wasn't a typical NAMM show response of "hey, check me out, I am going to try and 'out-Frank Gambale' Frank Gambale." Nope. It was "I'm Andy Timmons and here's how I play." He clearly had his own voice.
That voice has led Andy to many places in his musical career. Growing up in not-your-normal-music-mecca of Indiana, what would spark this musical journey? Andy says, "It was hearing the guitar solo in the Beatle's 'I Saw Her Standing There' when I was 2 or 3 years old. I didn't really know it was a guitar solo, but it was certainly my favorite part of the song! (It was drenched in that luxurious Abbey Road reverb which explains my love for lots of echo on my tone to this day). I think I had a toy plastic guitar around the age of 4 and remember my older brothers (I have 3) showing me how to play 'I'm Not Your Stepping Stone' on one string. I was hooked." That sounds reasonable, just another average American 2 year old spending their time watching the Beatles.
Was that early childhood an influence on Andy's playing? "Absolutely. In my case, my folks divorced when I was very young so my mother worked very hard to raise 4 boys. That meant working outside the home a lot, so I was alone quite a bit. My older brothers were my heroes and their musical tastes were a huge influence on me. I was born in 1963 and my oldest brother Mark was 12 at the time and bought every Beatles single, Dave Clark Five LP and lots of British Invasion. Obviously this is my foundation and still an era I'm quite fond of. I was quite shy growing up and I think the guitar became an emotional solace, as well as a means of expression for me as there wasn't much discussion about feelings in the household."

Once Andy got a few more years into his playing, he left to study Jazz at the University of Miami. After that his career took a decidedly un-Jazz turn when he got the gig with pop-metal band, Danger Danger, which allowed Andy to record, sell a million records and tour the world in rock-star fashion opening up for bands like KISS.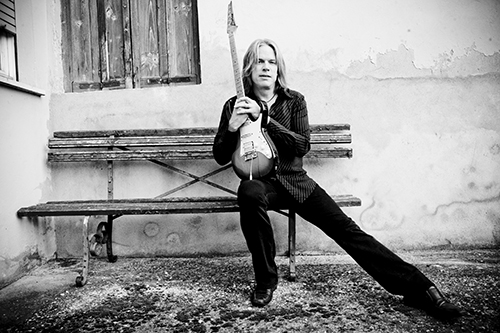 So when asked which personality won out, the rocker or the jazzer, Andy has to answer the age-old question of what style do you play? "I usually say 'everything' when people ask what style I play, though I suppose most folks may consider me a 'rock guitar player' first and foremost, and that is certainly where my musical roots lie. My long-time sound engineer Rob Wechsler once referred to me as a 'rock guitar player' on a session and I remember feeling slightly offended by being so narrowly categorized. I really do love to play just about any type of music and love the influence that jazz, country, latin and blues bring into my playing. But yeah, dang it…I'm a rock guitar player."
But don't think all this success keeps Andy from moving onward and upward. He says, "I've really re-discovered myself lately as a practicing musician. What I mean is that for many years my career and life had taken me away from being a proper student. I was always playing and writing, but I wasn't learning or pushing myself in other areas that I enjoy, particularly jazz. About three years ago I fell back into the habit of playing jazz standards every morning and listening and transcribing more often. Within a relatively short period of time, I noticed small improvements in my playing and my overall happiness! I'm currently in a huge Charlie Christian and Barney Kessel phase. Listening to jazz constantly is such a big part of the learning process. Sure, you can learn some licks and string them together, but you really need to HEAR and FEEL it."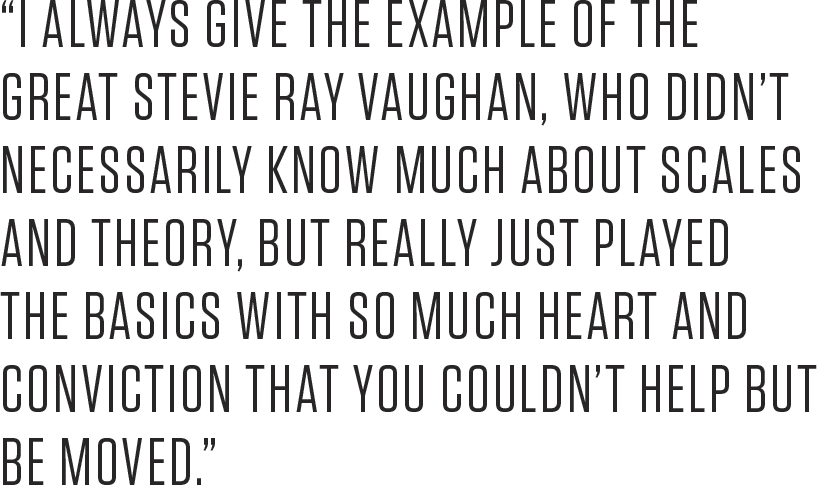 Still honing that voice on guitar. That is what makes someone sound unique. Andy has several projects in the works including a new Andy Timmons Band record and new release with Simon Phillips and "Protocol." Andy says about this project, "this band, that features Steve Weingart on keyboards and Ernest Tibbs on bass, is a wonderful opportunity to stretch out in a '70s-style fusion vibe. Simon is incredibly inspiring to work with." And in keeping with the versatility moniker, Andy says there is even more in store, "I also have a surf record waiting in the wings called "Beach Blanket Ringo." It's a high-energy '60s Instro-type record equally inspired by mid '60s Ventures, Dick Dale and Bubble Puppy."
So what advice can Andy offer to others who want to better themselves as a player? "You simply just have to do it. You have to play to improve. It takes time. That being said, we certainly have an endless amount of information at our fingertips via the internet. I always recommend to all players to learn by ear, then refer to the transcription or video. It will internalize much deeper that way. You need to really get a firm grip on the basics first and play to your heart's content. I always give the example of the great Stevie Ray Vaughan, who didn't necessarily know much about scales and theory, but really just played the basics with so much heart and conviction that you couldn't help but be moved. Don't overwhelm yourself. Take on small chunks at a time and feel the joy of those things surfacing in your playing. "
Great advice from a great player. While considered a master by most, is still finding his own voice, in every style that moves him.