John Lennon once quoted the words of his wife, Yoko Ono, "A dream you dream alone is only a dream. A dream you dream together is reality." As we fold up the legs on the last of the light stands and lock up TrueFire Studios for the night, I look back down the hall at the dim glow of the salt rock light in the atrium area where we just wrapped up a shoot. With this last glimpse of the newly polished stained concrete floor and the reflective glow of the ambient light in its sheen, those artful words come to the surface of my consciousness. This is but the flicker of a glimpse into the next chapter of our dream.
Six weeks ago, we had just put the last coats of paint on the walls and hung the wall decor in the brand new TrueFire offices. It was a warm spring afternoon in the heart of a downtown St. Pete amidst an explosion of growth and development. Computers and supplies were being rolled in from truck beds into the newly erected workstations. Studio wise, we were still in the interim phase, our leg of the buildout was only mid-construction (guitar lesson production was still happening offsite), but the rest of the team was moving in.
About a mile away, Brad, Ali, and I sat on the verandah of one of the sunshine city's oldest and most laid-back-Florida feeling hotels, the Renaissance Vinoy. We were gathering there for a meeting with one of our favorite new artist educators, Guitar Army, a supergroup of guitar gurus and songwriters John Jorgenson, Lee Roy Parnell, and Joe Robinson. With guitars in hand, these gents are nothing short of incredible to watch, but they're a great hang for good conversation too.
We gave them the traditional tour of what working with TrueFire is all about. We talked about educational courses and the new platforms for private lessons and self-produced content. We talked shop about our grandiose new studio still under construction down the road. And then we discussed the idea which laid the groundwork for the shoot which we just wrapped. The idea was to bring the trio down for a four-day shooting spree, netting each of them a TrueFire course in addition to a variety of interview footage and other content they could use to promote their upcoming tour. We'd been percolating on this idea for some time now, and it seemed to be a perfect opportunity to try it.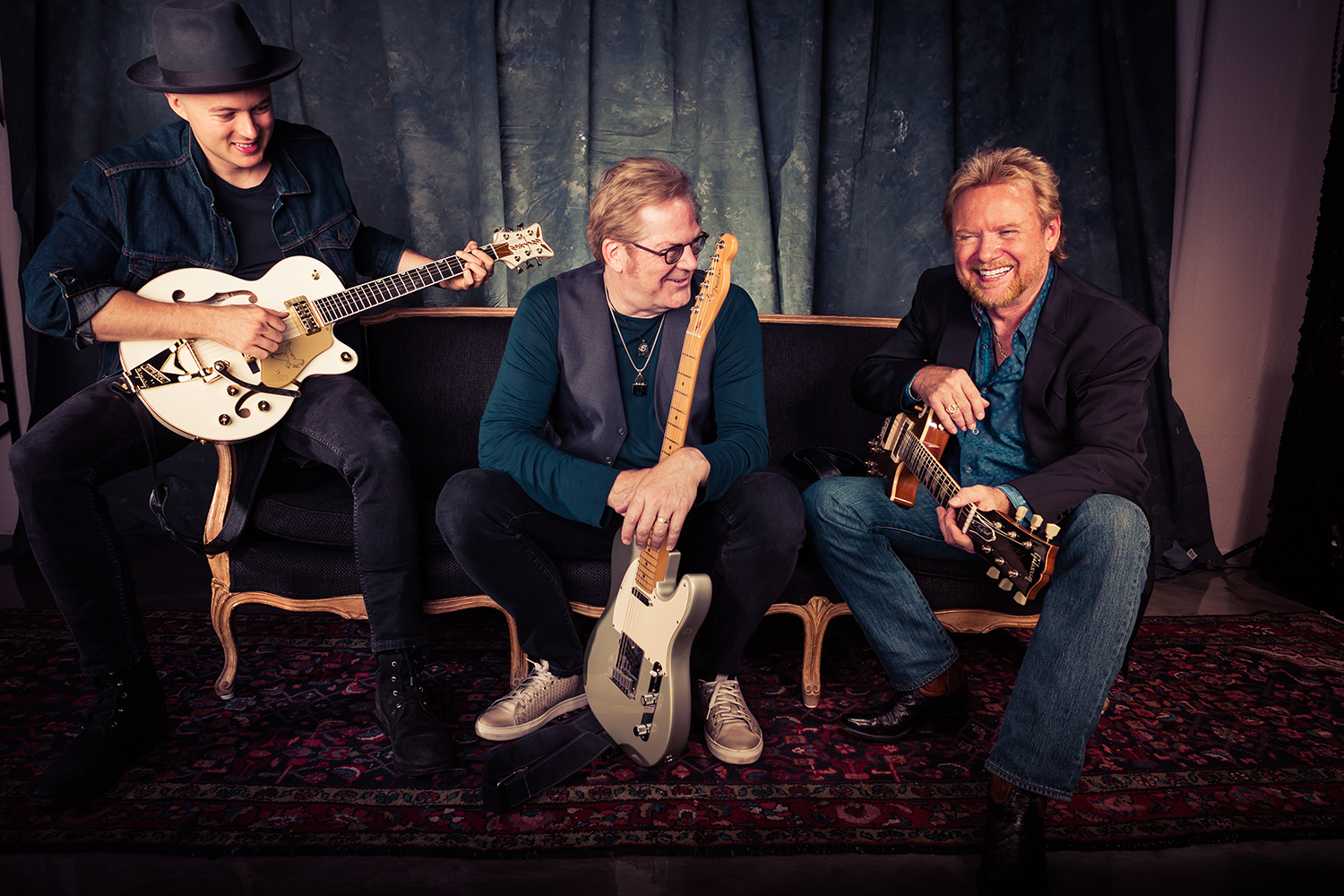 To survive in the music industry today, even more than ever, artists are finding it harder and harder to keep up with their fanbase' insatiable appetite for content. Today, that content is typically produced in several different studios, with a lot of moving parts and timelines; we're talking about recording studio sessions and producers, still photography shoots, educational video content producers, content for promotion and social media, etc. It's a lot to manage especially for the growing number of artists who restlessly serve themselves as both the talent and business executive.
So, what if an artist could show up at one powerhouse production studio (in the heart of sunny St. Pete, Florida) and leave with an exclusive digital package of audio recordings, photos, and video elements like interviews, educational courses, and song lessons direct from the artist? What if they could net all of this in one excursion, and better yet, have a team of producers that were passionate about helping them prosper in today's new entertainment landscape? Throw in a house concert or two, and you've got the makings of a truly amazing one-stop shop for both the artist and the executive. That's the dream. The Guitar Army seemed like a great place to start.
We began this blitzkrieg by producing a course with the young gunslinger, Joe Robinson. He's an incredible singer and songwriter, and he rips through fingerstyle pieces just as effortlessly and tastefully as he burns electric solos over a blues. Joe's course, Fingerstyle Synergy, focuses on ten essential studies to help students master the marriage of bassline and melody in fingerstyle arrangements. It's a truly difficult skill to get under your fingers, but Joe's got a way of making it seem accessible.
Up next, we shot Lee Roy Parnell. He's one of the most humble-hearted and honest people I've met, clearly part of the formula for how he engages you in his experiences both via his songs and in the lessons he teaches. His new course is due out this Spring so make sure you polish up that slide. John Jorgenson is probably the biggest musical overachiever I know. On top of being one of the greatest guitar players on the planet, he plays too many other instruments on too many major records and tours to even list (must be fake news!).
With John, we shot his first two of many courses to come, Gypsy Jazz Journeys, and Eclectic Electric.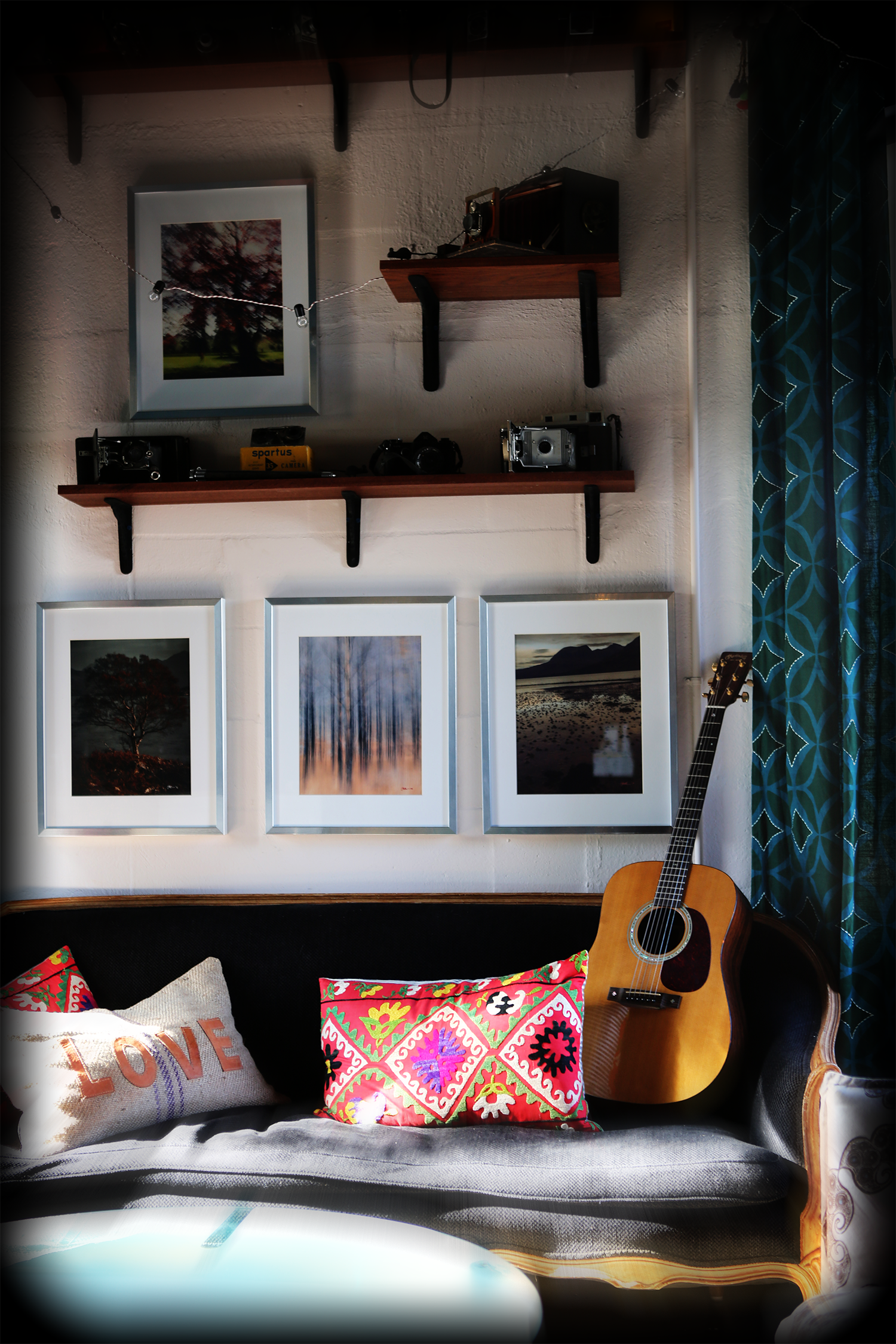 The next day, we assembled the crew at TrueFire for a multi-format shoot day with the trio. Up first we'd have the guys shoot still photography with Ali. While she shot in her studio, we were staging the atrium next door for a five-camera video session to include interviews, stories from the guys and some impromptu performances from Joe, John and Lee Roy. Technically speaking, this was a simple set up, but we wanted it to feel intimate and casual, so we went with a couch and coffee table look.
We mounted one camera on a slider, two more on sticks, a GoPro in the office window overhead, and finally an establishing shot from down the hall. We used lavs for vocals, SM57s on the guitar amplifiers and recorded to a couple of Zoom H6N's that we'd have to sync later in post. We started with a list of liners to promote their upcoming tour dates, followed by the interviews, first with each artist independently, and then as a group interview/EPK video for the Army. The day grew long, and by the time the guys went home for the night, we had the stills, about six hours of video footage, plus five or six songs recorded from that session too. Twas a solid day to say the least.
Looking back, it's pretty stunning to think about the amount of content we produced in such a short period of time. Altogether we logged nearly 60 hours of video footage alone, over the span of four days, amounting to over six terabytes of data. We wound up with four educational courses, six exclusive performances, still photographs, interviews and promotional footage, which can be leveraged by the band and their management team for a variety of purposes. Upcoming sessions will include things like pristine audio recordings and new editions for our multi-view "In The Jam" player software. Our in-house production studio isn't even done yet, so while this was, in a way, a sort of prototype for future productions, we took the first step toward making this "together dream" a reality, and it's really incredible to see.