It's 1972 and you're driving across the United States in your Oldsmobile Cutlass convertible with the top down. FM radio stations come and go, but you can pick up some AM stations and keep them on for hours. However, listening to top 40 radio doesn't exactly give you an abundance of memorable riffs to sink your guitar aficionado teeth into.
Then one song comes on whose opening guitar riff grabs you by the ear and won't let go. All it does is make you want to drive faster (sorry officer)!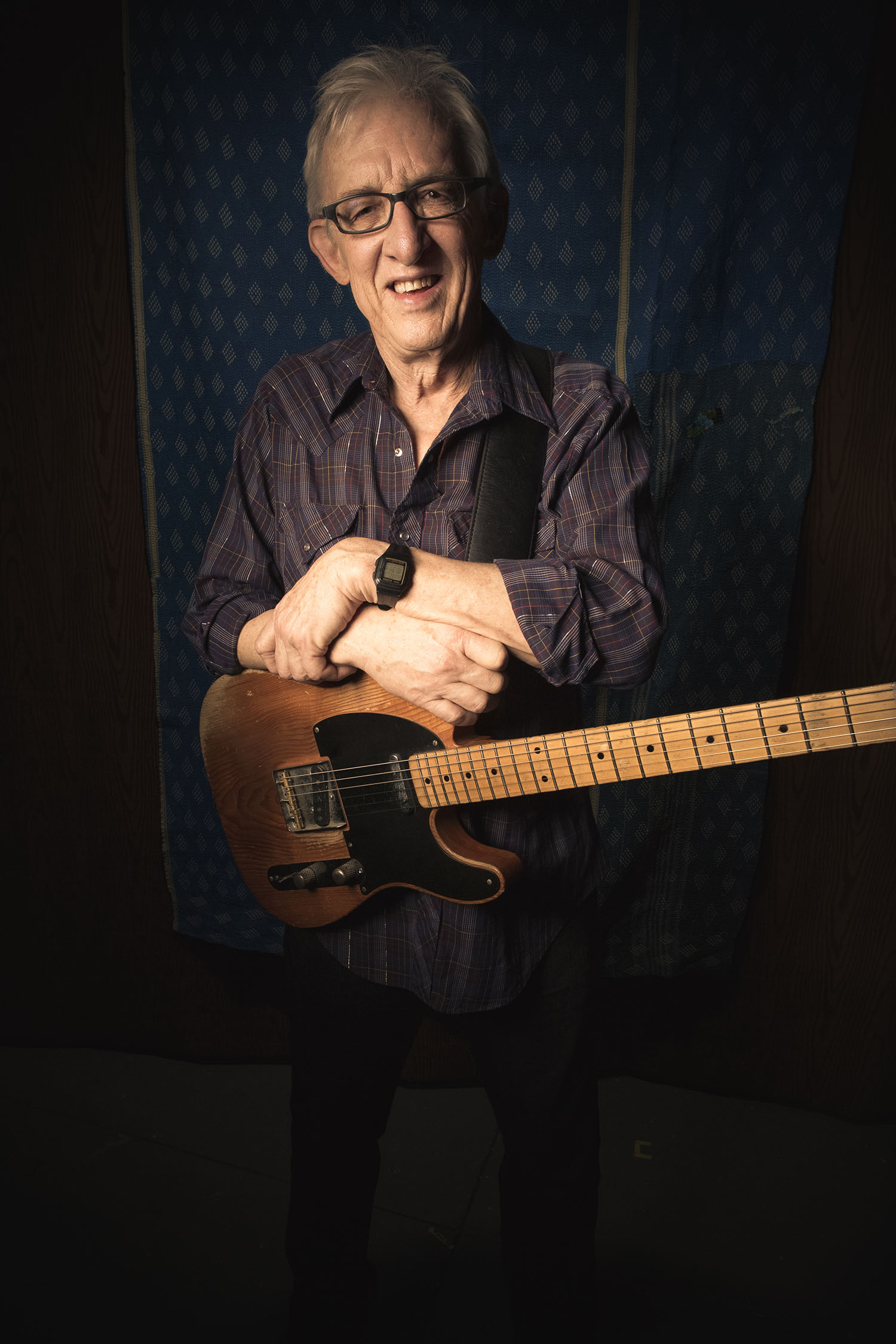 That song is "Hot Rod Lincoln" from Commander Cody and His Lost Planet Airmen. Bill Kirchen is the guitarist behind that legendary riff. While that riff may have been a catalyst for Bill, it is certainly not his only badge in the music biz. He has played on countless recordings and with many artists. But Commander Cody was his first leap into the spotlight.
Bill helped start the band a few years earlier. He tells us, "I was out in San Francisco in 1966 with a couple buddies, and we hopped freight trains back to Ann Arbor, Michigan to start my first band, The Seventh Seal. We formed Commander Cody in Michigan a year or so later, then I moved back to San Francisco and convinced the band to join me out west. From that point on, I became a full-time working musician."
The late 60's and early 70's were a groundbreaking time in music history. How does Bill describe it? "Wild and wooly! That era was a sweet spot in the music industry for creativity and opportunity, and we were lucky enough to be right there in the thick of it at home in San Francisco and on the road. There was tremendous variety and great co-bills back then. We shared the bill with Led Zeppelin, Grateful Dead, Van Morrison, Credence, Jefferson Airplane, Willie, Waylon, Chuck Berry, James Brown, Allman Brothers, and oodles more. We also functioned as the band for Emmylou Harris, Linda Ronstadt, Doug Kershaw, Link Wray and Gene Vincent at various shows. I know I had way more fun than I deserved!"
Of course it is one thing to be in the mix of that kind of amazing happenings, but Bill was more than just another guitar player onstage. His style set him apart from others who were maybe just in the right place at the right time. Bill is a standout at ANY time. His unique licks on the Tele have been called a "Triumph of the Telecaster," and Vintage Guitar magazine has labeled Bill "An American Treasure." You don't get that kind of respect with just one cool lick.
I often wonder if someone who has a pioneering and brilliant way of doing something is aware of it at the time they are doing it. Like did Poe know while he was penning the "Raven" that 170 years later it would be a classic and there would be a pro football team named after it? Did Bill realize that his voice on the guitar was so singular that it would help define the style?
Bill says, "No, it really just evolved as I got exposed to different styles that caught my interest. By 1965, going to concerts in Ann Arbor and at the '64 and '65 Newport Folk Festivals, I had seen live: Mississippi John Hurt, Son House, Skip James, Pop Staples, Bob Dylan, Mike Bloomfield, Johnny Cash, Flatt and Scruggs, Rev Gary Davis, Clarence White – whole lifetimes of guitar music. In my first band, I played a Fender Jazzmaster with plastic fingerpicks through an Echoplex and a tweed Twin (not a bad rig, wish I had that today!) and just did whatever I could to make it work like Piedmont Blues, Old Time and Bluegrass ideas. Then I switched to a flatpick and started absorbing stuff from Don Rich, Roy Nichols, Eldon Shamblin, James Burton, Scotty Moore, Phil Baugh, Gene Moles, as well as a lot of 60's Bakersfield country, some Western Swing and Rockabilly.
Since I had not grown up with Country music, or even much Rock 'n' Roll as a kid, I wasn't stuck in any particular tradition. And I never played in a strictly cover band, so I was free to take what I liked from a wide variety of sources and make stuff up."
That worked well. And it keeps on working. Bill is still very active as a musician doing 200 shows a year. That is not bad considering he is going on 6 decades of making music!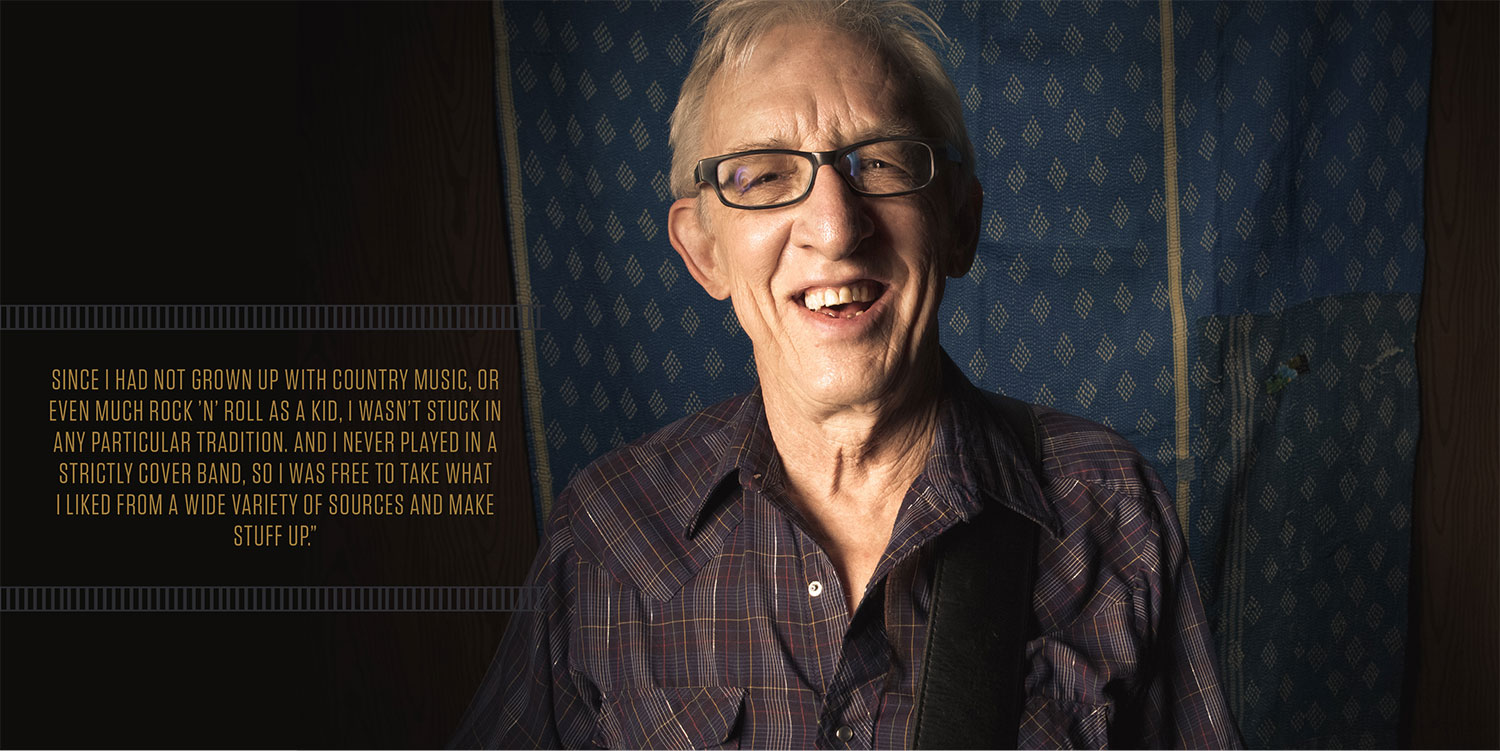 Bill's latest project with Austin De Lone is called "Transatlanticana" and has him touring more than ever. "The new CD is on Red House Records, made the Americana Radio Charts Top 10 earlier this year, and that has kept us even busier than usual. It's coming out early March in the UK on Proper Records. I start touring there March 17."
With all that history to live up to, and all the current success in music, does Bill ever have time for anything else? "Well, my wife and I have a couple wonderful granddaughters, a daughter and son-in-law nearby, so there's a lot of big fun right there. We live in Austin, Texas which has a wonderful and varied musical community, so there's a lot of camaraderie here. Thankfully I still love to travel and have a far-flung bunch of friends so I'm a lucky guy. No time for golf, besides it looks way too hard, whacking that ball into a tiny cup hundreds of yard away."
After all these years of touring and playing countless gigs, what is the secret that makes a gig a success? Bill sums it up in this simple credo: "If I can honestly say that I kept the vow I make at every gig: I promise to try not to suck."
Good advice for all of us.