We all have our own personal lists of favorite guitar solos? I'd bet dollars to donuts that at least one of your favorite solos was recorded on a Steely Dan record. Good odds of that being true considering the list of guitarists that Walter and Donald invited on those sessions; Larry Carlton, Jeff Baxter, Denny Dias, Elliot Randall, Wayne Krantz, Dean Parks, and Rick Derringer all made timeless contributions to the Steely Dan anthology.
Jon Herington is another monster player with a very notable lineage to Steely Dan (his solo on Morph The Cat made my list the moment I heard it). Jon is the guitarist of choice for both recording and touring with Steely Dan since 1999. "Herington has provided a deeper contribution to Becker and Fagen's music than any other guitarist since Larry Carlton," says Robin Lynam in a review of his performance on "Weather in My Head."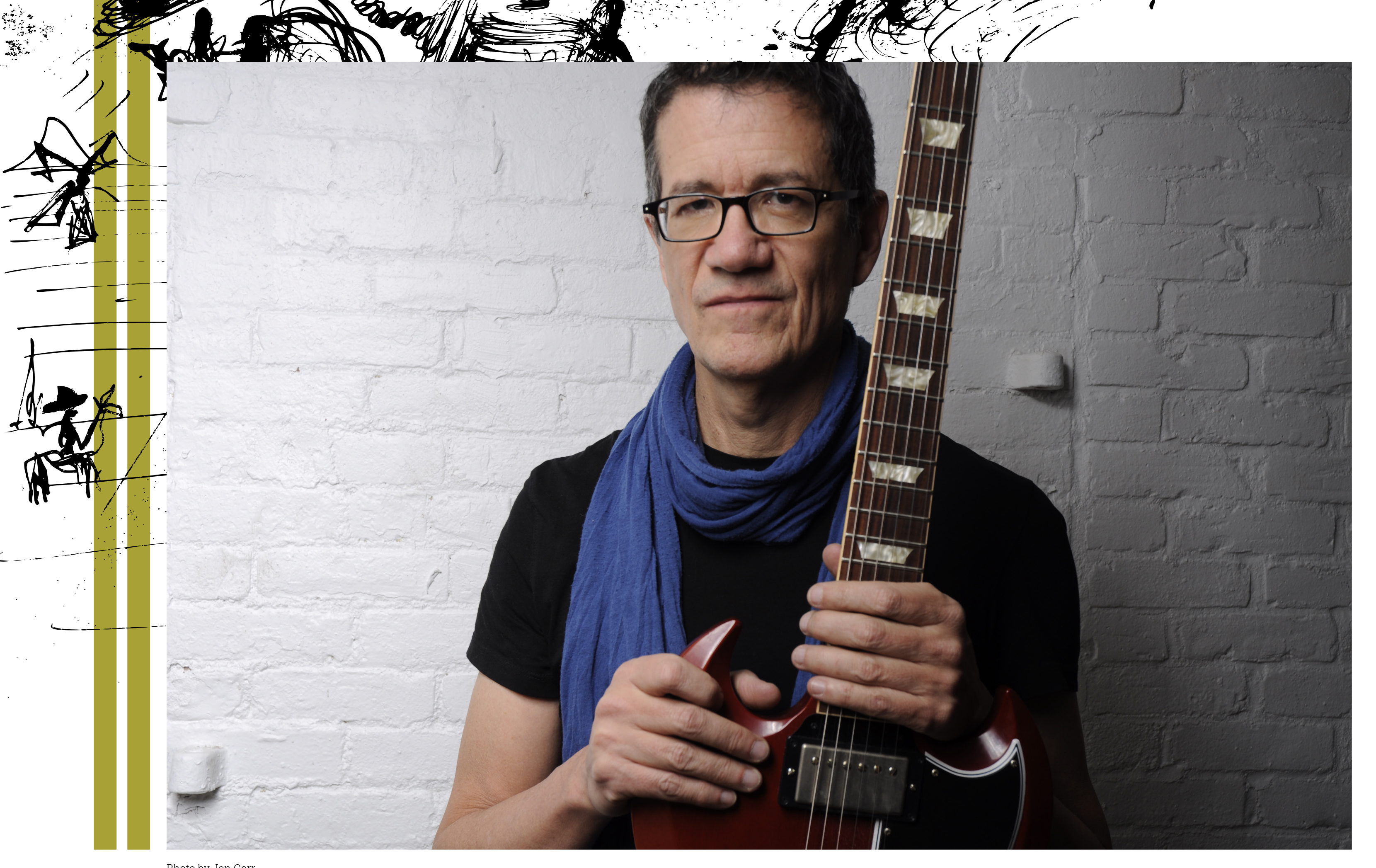 Jon has recorded or toured with Donald Fagen, Boz Scaggs, Bette Midler, The Jim Beard group, The Blue Nile, Phoebe Snow, Madeleine Peyroux, Rob Morsberger, saxophonist Bill Evans, the contemporary jazz super-band Chroma, Lucy Kaplansky, jazz/blues organ great Jack McDuff, and The Dukes of September (a supergroup featuring Donald Fagen, Boz Scaggs, and Michael McDonald).
Jon also has seven of his own records as bandleader, and this is where his chops really shine. Guitar Player magazine agrees, "Jon Herington's work with Steely Dan, Boz Scaggs and Michael McDonald qualifies him as a sessioneer extrordinaire, yet he deftly avoids both traps on his fourth record Time On My Hands, by serving up clever, tightly constructed tunes shot through with searing solos and studded with 6-string ear candy."
I can give testimony on Jon's "searing solos" as I was fortunate enough to attend a Steely Dan concert, at the Chicago Theatre, featuring Larry Carlton as guest artist. Larry was brilliant as always, but I couldn't take my eyes or ears off Jon. His rhythm work was impeccable and his solos on seminal tunes like "Reelin' in the Years," "Bodhisattva," and "Peg" brought the entire audience to their feet. I was also blown away by the tone he produced from his Gibson 336.
Two things became crystal clear to me that night. First and foremost, we had to get Jon into TrueFire's studios — our library was conspicuous by his absence. And I definitely had to get my hands on a 336.
It took a while for Jon's recording and touring schedule to open up, but we finally seized an opportunity to get Jon into the studio and produce his first TrueFire course, Ear IQ — one of the most popular and highly ranked courses in our entire library. Jon is also one of the most knowledgeable, gifted, and personable people that we've ever had the pleasure of working with.
It took me a year of searching, but I finally found an old 336 that I fell in love with on sight. I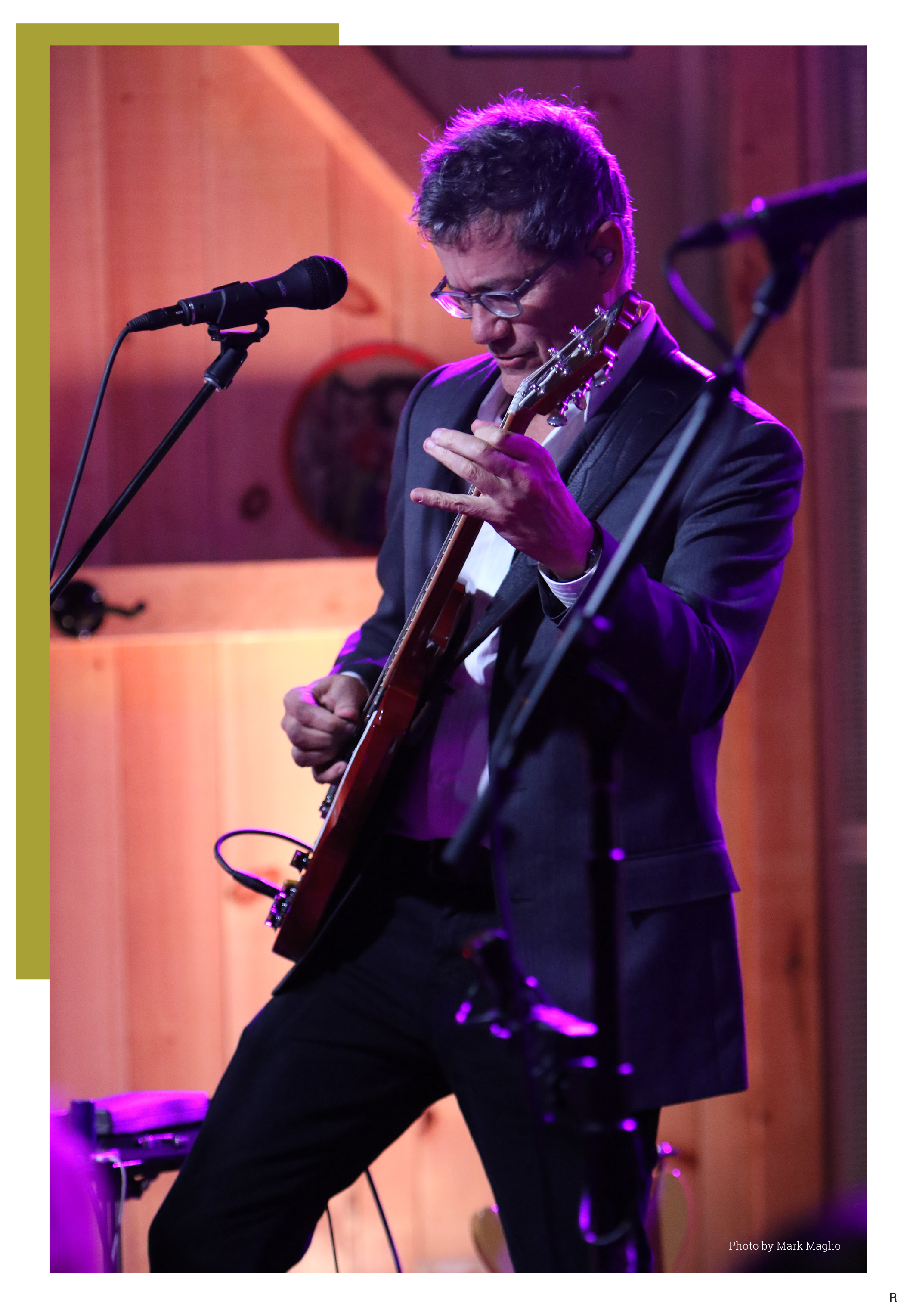 t must be defective though, because I can't even come close to obtaining the tone that Jon is able to produce from his. Imagine that?!
I asked Jon if he would kindly answer our Proust-like questions so that our readers could get to know him a little better and he happily complied in the following section.
What is it about the guitar that attracted you to it originally, and still fascinates you today?
I fell in love with the sound of an electric guitar through a cranked up tube amplifier sometime around 1968. It was the sound of the British Invasion. For me the sound of the guitar on the live Cream recordings of that era just really thrilled and motivated me. Though I later grew to love the sound of various acoustic guitars (jazz, classical, folk, etc.), it was the vocal, or violin-like sustained tone that is only available with a good electric guitar through a good tube amp that was, and still is, the main attraction for me, on account of its unique expressive potential in that lyrical sort of way. It still feels like home to me.
Your idea of happiness?
It's something to be taken in stride along with all the other fleeting emotional states. Clinging to it is counterproductive, accepting it and all the other emotional states as gracefully and gratefully as possible is the aim.
Whether living or dead, who would you like to have dinner with?
Gandhi; Bach; Stravinsky; Ravel; the Buddha; Oscar Wilde; Mark Twain.
Name three things a player can do to improve their musicianship.
Spend as much time listening as you do practicing
Practice at a tempo you can control
Record your performances and listen critically to them; adjust as needed
If not yourself, who would you be?
Since I'm beginning to have serious doubts about the existence of a "self," I'm quite unable to imagine being someone else. It's tough enough imagining being myself!
Given the changing business landscape of the music business and how tough it is to sell records etc. — what are the positives about the current evolution of the music business?
Some people have been able to turn touring into a much more profitable enterprise and a viable living, which is a positive for them, but unfortunately, it's a negative for ticket buyers since the prices are now so astronomical. And it seems to be only the older, more established acts that are able to do that as lesser known and younger bands still struggle.

I suppose the greater access to decent quality recording that's now available is a democratizing thing, which sounds good in theory, but the excess of product doesn't seem so great, when you consider the typically small percentage of quality product that's buried and harder to discover as a result.
I do think that despite a few positives there's been a devastating net loss, and the continued devaluation of intellectual property (and not just in music) will have catastrophic effects if we don't find a way to change direction – no one will be able to afford to be an artist, and many great traditions may become endangered.
Your favorite motto?
It's not important to live long, but well.
What do you dream about? Literally.
I don't often remember my dreams, but when I do, as Freud noted, there is always an element of something that happened the day before. It's often twisted and co-opted for other means, but it's there.
Wishes and fears are also regular features. I have performance anxiety dreams from time to time. My favorite was one where I was standing in the wings at a Madison Square Garden Phil Collins concert just before the start of the show, and someone rushes up to me and thrusts an acoustic guitar into my hands, shoves me on stage and says: "Phil is sick – you have to go on for him and play all his tunes!" Horrible. Perhaps as a result of those dreams and anxieties, I'm a serious over-preparer.
In my favorite and incredibly realistic recurring dream, I have perfected a kind of human flight – I can jump and glide on the air at will, and go for long, thrilling, beautiful rides with a delicious mix of about 90 percent confidence and 10 percent fear. At its best, improvising music can feel like that.
What are your aspirations?
Greater personal freedom, more acceptance, less neurosis, less judgment, less need to interpret reality.
What one event in music history would you have loved to have experienced in person?
The first performance of Stravinsky's Rite of Spring.
Your favorite heroes in fiction?
Heroes might be the wrong word, but a couple of characters that come to mind are Don Quixote and a character named Catherine from a novella I recently read called "Eggs" by Jim Harrison.
What or who is the greatest love of your life?
Oh, I think it would have to be life itself.
Your favorite food and drink?
Just like in music, there are too many greats – I like great coffee, great wine, and I've lately been on an IPA kick. I like Mediterranean food best, especially Italian and Middle Eastern cuisine, and I lean towards vegetarianism, though I don't get all the way there.
In your next life, what or who would you like to come back as and why?
I don't expect to come back, and I tend not to indulge in wishes like that. This life feels richer under the assumption it's all I'll get.
The natural talent you'd like to be gifted with (other than music)?
Again, it's very hard for me to play the "wish" game. But natural talent seems to arrive with the obligation to develop it, as was true for me with music, so I'm quite content to have learned that my talents are limited – I've loved it, but it's been hard enough!
In life or in music, what is the one central key learning that you'd like to pass on to others?
It's certainly nothing unique to me, but I'd have to say this: There's great power in humility and self acceptance. It's paradoxical, but it turns out by accepting your limits you increase your capacity for making the most of what you have. Strive to see things as they really are.