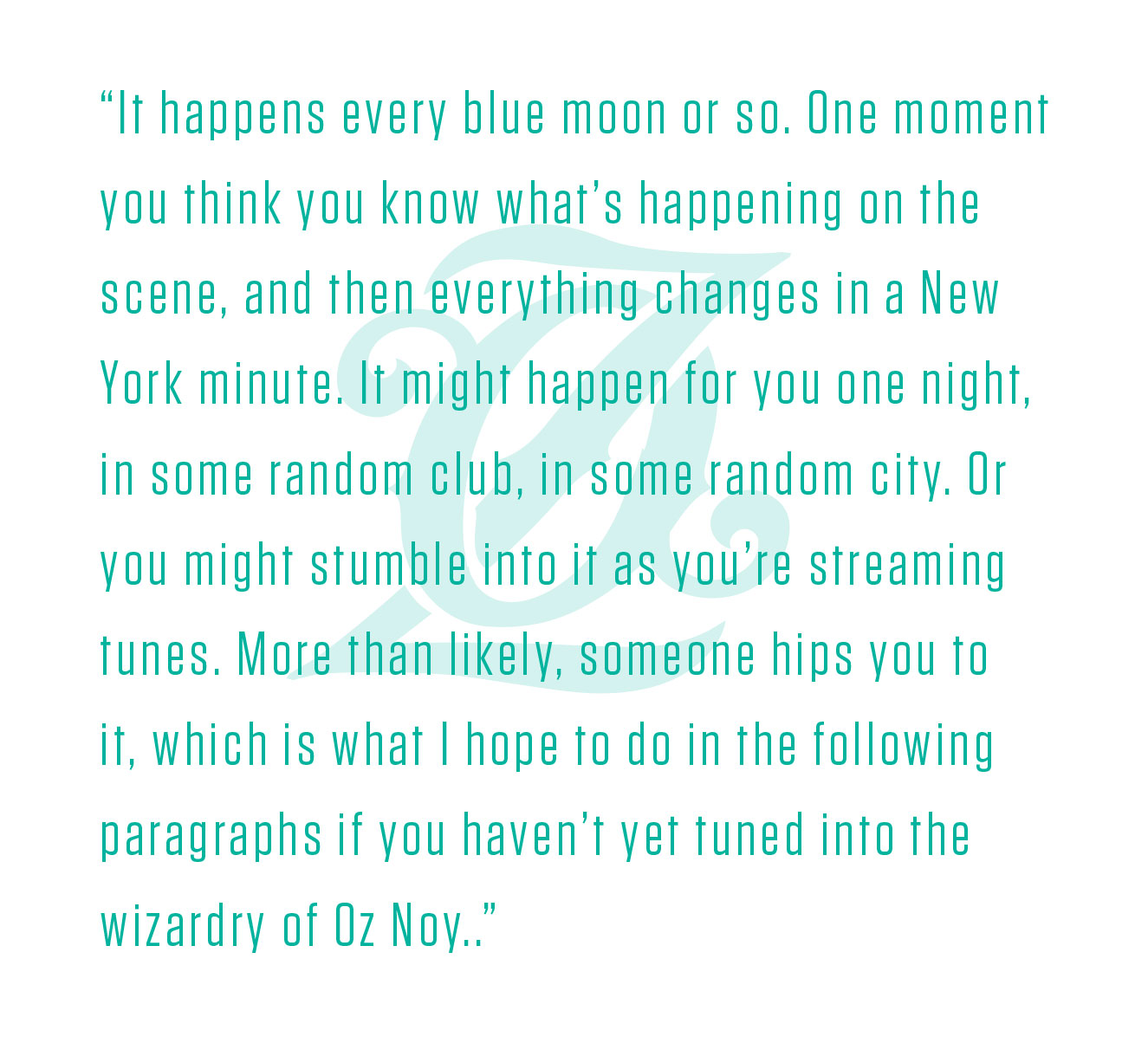 n silicon valley speak they call it a "paradigm shift," defined as "an important change that happens when the usual way of thinking about or doing something is replaced by a new and different way." I'm not sure what it's called
in the world of music, but I've frequently heard the phrase, "WTF" used when one sees or hears a guitarist that takes the instrument way beyond the current state of the art.
I certainly used that phrase when I first heard Oz. And in my opinion, he belongs on the short list of legendary players who have also blazed new frontiers on the instrument, across the history of music. I am not alone as you will discover when you google Oz up, visit his site, and read what his peers have to say about him.
I could tell you his story but; a) you'll find that elsewhere as you peek behind the wizard's curtain, and; b) I'd rather take advantage of Riff's interactive format to share a few of my favorite Oz videos and give you a taste of his wizardry.
I will tell you this though…ask Oz how he would describe his sound and he would tell you, "It's Jazz. It just doesn't sound like it." Gotta love that and many top recording artists, across a wide variety of genres, do indeed love what Oz brings to table.
He's performed, toured and recorded with The Allman Brothers, Allen Toussaint, Eric Johnson, Mike Stern, John Abercrombie, Gavin DeGraw, Harry Belafonte, Cyndi Lauper, Clay Aiken, Wonder Girls, Toni Braxton, Phoebe Snow, Nile Rogers, Dave Weckl, John Patitucci, Bill Evans, Warren Hayes, Steve Lukather, Jennifer Hudson, Don Henley, Patti Austin, Take 6, Michael Buble, Josh Groban, Phil Ramone, Paul Shaffer, Steven Tyler, Joe Perry, Sting, Steve Perry, Allison Krauss, Foreigner, Patty Smyth, Average White Band, Christopher Cross, and the list goes on and open and on. Talk about a pedigree!
Oz is amazing to work with. Super humble and laid back, yet very confident and direct. Knows precisely what he wants to do and is very well prepared, yet open to suggestions and collaboration. Most of all though, I just really enjoyed his company and we connected right away. Follow your ears down that yellow brick road. That's Oz playing jazz that you're hearing — it just doesn't sound like it.
The first video is one of the performance studies from his first TrueFire course, Improv Wizard. Here's Steroids…
Oz with Keith Carlock (my personal drum hero!), Will Lee and John Medeski in the studio for Twisted Blues Vol 2…
Oz with Keith Carlock and Oteil Burbridge at the Regattabar in Boston…
Oz with Ely Jaffe, Matt Koziol, Keith Carlock, James Genus and friends performing a Stevie Wonder Medley…
Oz with Dave Weckl and Michael Rhodes performing "Just Groove Me" at the 2013 PASIC…
Oz with Anton Fig, Roscoe Beck and special guest Eric Johnson…
Look up "funky white boy" in your Webster's and that's Oz you'll see pictured there, clearly validated by his second TrueFire course, Funk Rhythm Guitar Essentials. Here's two performance vids from those lessons, Shining Rhythm and Funk Injection…
OK friends, both volumes of Oz's Twisted Blues albums and the above playlist should get you started on your own yellow brick road discovery of the wizardry of Oz Noy!
As usual, we asked Oz to answer our Proust-like questionnaire so that Riff readers could learn a little bit more about him. Dig in!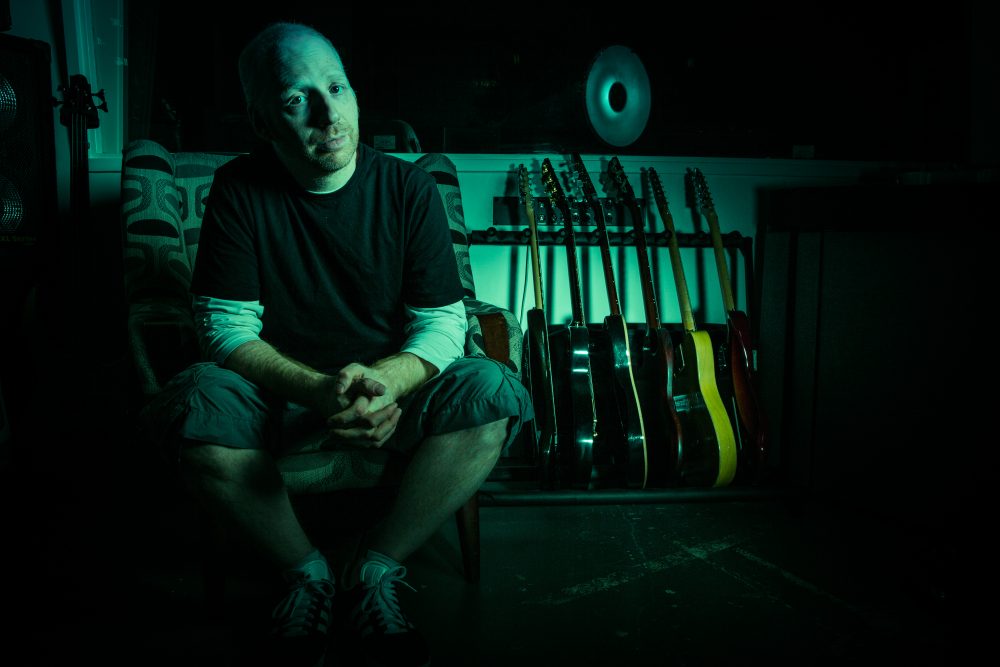 What is it about the guitar that attracted you to it originally, and still fascinates you today?
I don't really know why I started to play guitar, I wanted to be a drummer, but a friend of mine took me for a guitar lesson and that was it…I think the Beatles was a big reason why I'm playing guitar…I also really love the tone of an electric guitar, a good tone of a Fender strat can get me emotional! I'm still as fascinated by the guitar as I was when I started 35 years ago. Once that ends (which I hope will never happen!), I will stop playing and become a gardener or something like that.
Your idea of happiness?
Health, love, good food, and good music.
Whether living or dead, who would you like to have dinner with?
Hendrix, SRV, Miles, Wes, Pat Metheny, Jeff Beck, Herbie Hancock, Wayne Shorter, Joni Mitchell, and Katy Perry.
Name three things a player can do to improve their musicianship.
Practice with a metronome, learn jazz theory, play with better musicians then yourself.
If not yourself, who would you be?
Hugh Hefner
Given the changing business landscape of the music business and how tough it is to sell records etc, what are the positives about the current evolution of the music business?
None! The music business model right now makes absolutely no sense. Unless there's a serious change in the digital royalties domain it won't be possible for musicians to keep making original new music. You need money to make music (or any type of art really) and if there's no money, it can't survive. It's really that simple.
Your favorite motto?
Have high hopes and low expectations.
What do you dream about? Literally.
I hardly ever remember my dreams.
What are your aspirations?
I really just hope to keep making good music and becoming a better musician.
What one event in music history would you have loved to have experienced in person?
SRV live at El Mocambo – I would have loved to hear that tone in that room.
Mile Davis Live at the Plugged Nickel. Those nights of music changed jazz and modern music forever!
Your favorite heroes in fiction?
Superman of course.
What or who is the greatest love of your life?
Still looking….
Your favorite food and drink? 
Any real good Middle Eastern, Italian, Japanese food…and a bottle of Coke.
In your next life, what or who would you like to come back as and why?
An Astronaut. I think it's a hip job.
The natural talent you'd like to be gifted with (other than music)?
Photographic memory.
In life or in music, what is the one central key learning that you'd like to pass on to others?
Have fun and do what you love to make you feel good! If you love what you do and it makes you feel good, then everybody around you will feel the same. I know it sound cheesy, but it's true.