The life-blood of TrueFire's student population is the lifelong student of guitar. Each issue we'll get to know one of these passionistas of guitar.
TF: Why do you think music is important to someone's life?
GADLAW: Music speaks to our hearts; it expresses what we can't always verbalize and allows us to share that with others. It binds us together and makes us human.
TF: If you could learn to play any one thing, what would it be?
GADLAW: Canadian Railroad Trilogy by Gordon Lightfoot on a 12-string guitar.
TF: Who is your favorite guitarist and why?
GADLAW: My favorite guitarist is George Benson. When I first really discovered music, it was from a Jazz radio station in Sacramento, California and they played a lot of George Benson. His Weekend in LA double album was out and he was touring and that was the first concert I attended. I saw George Benson in his white leisure suit outfit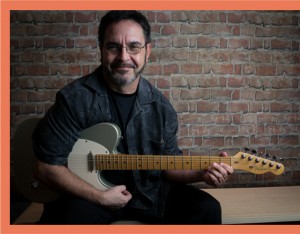 right in front of me playing On Broadway big as life. It was amazing.
TF: What musician would you like to have dinner with (living or dead)?
GADLAW: Trent Reznor from NIN.
TF: If you were stranded on a desert island, what one guitar would you like to have with you (assuming you'd have electricity)?
GADLAW: I would have my Guild GAD 30R Acoustic. She's been with me from my first chords.
TF: If you could be in any band (current or past) which band would you like to be in?
GADLAW: I'd be in The Tannahill Weavers. They play traditional Scottish music, lots of great instruments and great heartfelt music.
TF: Finish this sentence, "If everyone on the planet played guitar…."
GADLAW: …there would be guitar tree farms and no shortage of rosewood, walnut, ebony and every other great wood for guitars. Also world peace.
TF: Describe your biggest "aha" moment on guitar.
GADLAW: My biggest "aha" moment was in deciding to learn to play the guitar. I was taking my youngest son to piano lessons at a very nice music store and looking at all the beautiful guitars. I said to myself that I'd like to learn to play, but that I was too old. Then it hit me that I had said that exact same thing ten years before when taking my oldest son to piano lessons in another nice music store. Then I realized you're never too old to learn and found a guitar instructor right then at the store.