I spent hours and hours Googling Bill Evans before my first call with him. We were scheduled to discuss his TrueFire session and I wanted to learn as much about him as I could for a couple of reasons. First off, we've never worked with a saxophone player before and the instrument was well out of my scope of expertise. But I also wanted to learn more about Bill himself, and the deeper I dug, the more curious I became.
Wherever Google led me chronologically, I found credits and accolades that blew me away. Go back to the 80's and you'll find Bill playing with Miles Davis for three years, followed by a stint with John McLaughlin's Mahavishnu Orchestra. Google up more current activities and you'll find Bill on stage with the Allman Brothers, Willie Nelson, Derek Trucks, Gov't Mule, Umphrey's McGee, or co-leading European tours with Robben Ford or Randy Brecker.
The guitar player was one of my first drawings…I'm not sure of what he was playing, sorry.
Search a date range anywhere in between and you'll see pages filled with glowing reviews and Grammy nods for Bill's own recordings (almost 20 albums to date!) and projects with Michael Franks, Willie Nelson, Mick Jagger, Les McCann, Mark Egan, Danny Gottlieb, Ian Anderson, Randy Brecker and Medeski, Martin, and Wood.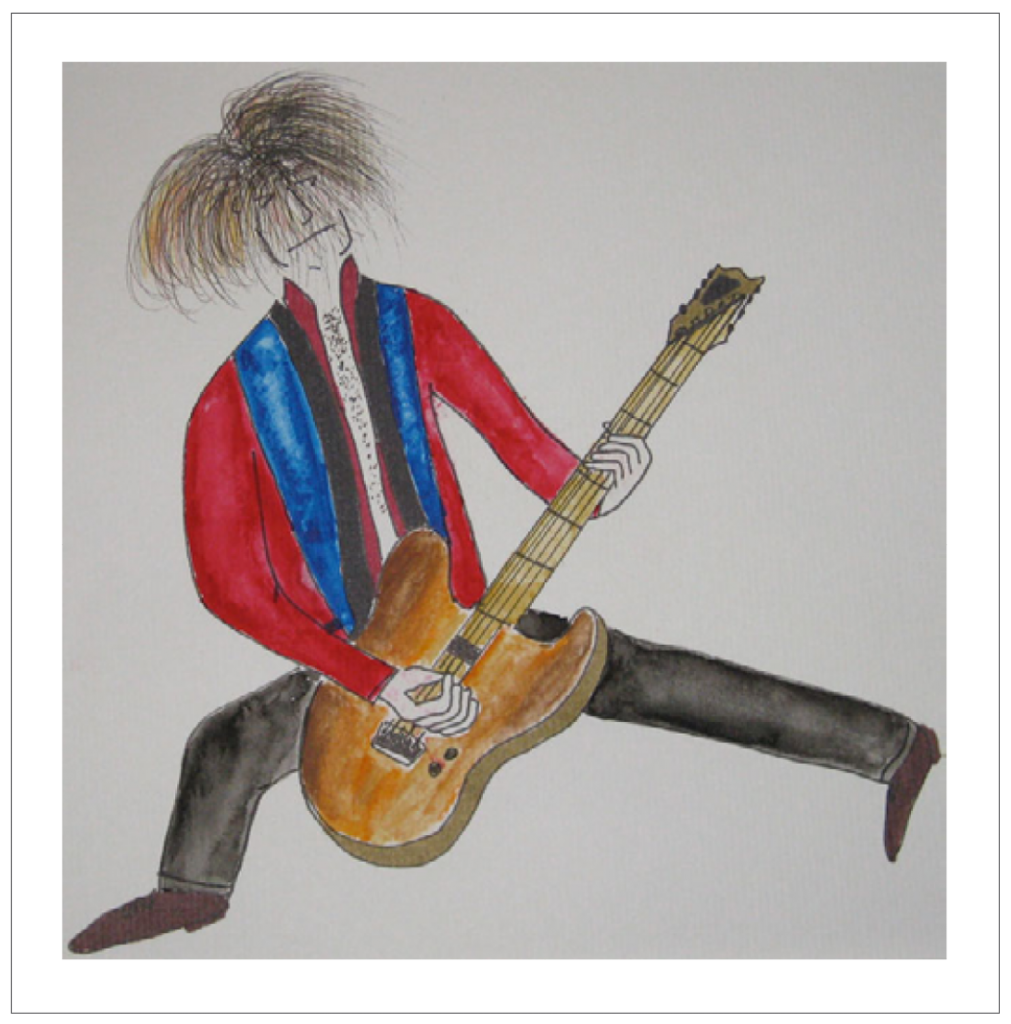 So, I'll admit I was a little nervous before our first call. I knew next to nothing about the saxophone and this guy actually started his career playing with Miles Davis and then continued to progress up the ladder of musical accomplishments ever since. What interest would he have messing around with an eager bunch of guitar students?!
It took less than 60 seconds on the phone to allay all of my apprehensions. Search all gazillion pages of Google and you won't find a more friendly, humble, charming, funny and ultra cool person (great golfer too!). Plus, he was majorly excited to do a course for guitar players because he's played with so many of them and felt he had much to pass along. And pass along he did…The Language of Improvisation, Bill's first TrueFire course, went platinum here with a bullet and students say they learned as much, if not more, about improvisation from this master saxophone player than any of our other guitar-centric courses on the topic.
Guitar players have been copping lines from sax players forever. Bill gave us a ton to work with and of course we transcribed them all just to make it easier for all of us.
I asked Bill what we should focus on in this article; so many possibilities across his notable musical career. We could talk about his music, some of the great players he's worked with, some of his road stories — so many options. True to his inimitable improvisational form, Bill took a left turn…"that's easy," he said. "Let's talk about painting."
---
BE –
"I've been going to Japan every year since 1981. A friend of mine (bassist Mark Egan) told me that Chris Parker (drummer and watercolor artist) goes to Japan and sells a lot of watercolors at his gigs there. So, I thought, 'I can do that too!'
Well, I've never painted before, but I had 6 weeks to learn before my annual tour of Japan and I thought I could come up with something that people might buy as a souvenir.
I tried painting everything I could think of and failed miserably. I tried to paint landscapes, rural country scenes, portraits, you name it, and it all looked like bad abstract art, or something a child would paint in art class.
I then started to paint caricatures of musicians, and all of a sudden, the paintings started looking pretty good…lots of color and action. I painted guitar players, trumpet players, drummers, all kinds of players. I had no training whatsoever and so you could say it was a "fresh" look. <laughs out loud> I also painted some collages of saxophones, guitars and abstracts.
I sold all 75 paintings that I brought with me! And they were not cheap! Following that experience, I became passionately interested in really learning how to paint. I couldn't stop. I would spend hours some days, painting and painting and painting. I found something really special that connected with the same part of my brain that music does. And now I'm hooked for life!
I painted the dragonfly picture on my Dragonfly CD cover, and I painted an abstract for my new live CD coming out in October called Soulgrass Live in Moscow. A great painter named Lien Zhen showed me a technique of painting that was really expressive and free flowing that just blew me away, like hearing a great piece of music. I feel the same passion for painting as I do when writing new songs.
Try it — you just might also find a new passion in your life!"
---
During lunch on Friday (after a round of golf with the boys), Bill got a last-minute call to join the Allman Brothers in concert the following night. Pretty impressive. Even more impressive was the photo he sent us after the concert of him wearing a TrueFire t-shirt on stage at the concert. How cool is that?!
Bill, we owe ya another round of golf for that one!
I always wanted to see what a pile of colored saxophones would look like…so I drew them. Now I know.