It's not news that the music biz is a tough business for musicians, even more so today than ever before. You can only imagine how many mega doses of conviction, passion, and tenacity it must take to muster the energy required to pack your bags, leave your family, and head out for the next series of gigs, most of which won't even cover expenses.
Small wonder why so many of the actively touring musicians that come in for a TrueFire session are bone-tired and deflated. But every now and then, some of these road warriors come through the door and lights up the place with their smiles and positivity — Mike Zito in the house!
"He's got that rare kinda voice that resonates in your soul."
Shake his hand and the first thing you notice is the word "blues" tattooed across his right hand. How could you not love that?! Then it's his smile and laid-back, genuine personality that wins you over right from the get-go. And it all gets better from there.
Mike is everything you want your guitar hero to be. Anders Osborne sums it up perfectly, "I love Mike Zito! He's got that rare kinda voice that resonates in your soul. All his hardship, life experiences and kind heart oozes out of every note his sings. His guitar playing dances delicately between a contemporary blues virtuoso and an old fashioned soul man. Mike continues to impress me with his straightforward and honest songwriting. His joy and grace shine through every record he makes."
"His guitar playing dances delicately between a contemporary blues virtuoso and an old fashioned soul man."
If you dig blues or blues-rock, then you've likely already checked out Mike's courses here at TrueFire (all of them top ranked!). You might have even checked out some of Mike's records (12 of them to date I believe).
You might even have heard that Mike won Blues-Rock Artist of the Year at the 2018 Blues Music Awards in Memphis (considered the Grammys of the genre), or perhaps heard Mike's cover of "Little Red Corvette" on Sirius radio, or had the pleasure of attending one of his incredibly emotive performances, or picked up his most recent and highly acclaimed album, First Class Life (very fitting title for a Mike Zito record!).
Whatever your familiarity happens to be, I urge you to dig deeper into Mike Zito. I feel pretty confident guaranteeing that you will find another spot on your mantle of guitar heroes for this remarkable artist and human being who describes himself as a, "traveling blues man, door-to-door selling my songs, trying to follow the path of the righteous and still light my fire along the way."
We asked Mike if he would answer our Proust-like questionnaire so that Riff readers could get to know him a little better and of course, he happily complied…
What is it about the guitar that attracted you to it originally, and still fascinates you today?
I had never really heard the guitar before I heard "Eruption" by Eddie Van Halen. I was 8 years old, it was 1978 and a friend's older brother was listening to the record in his room. I was visiting and heard this sound…it sounded like Spaceships or Star Wars. It was crazy and colorful and mesmerizing. I became overwhelmed with the sound of the guitar from the moment forward. It is capable of so many approaches and sonic sounds and feelings and has the most "vocal" quality. I still feel the same way today, nothing has changed and "Eruption" is more mesmerizing today than it was when I was 8
years old.
Your idea of happiness?
Drinking coffee, listening to Johnny Winter, PJ's
ALL DAY!
Whether living or dead, who would you like to have dinner with?
Well, I think I would choose living….. 🙂  The dead might stink up the meal.
Probably Muddy Waters. I would want to hear from the man himself what that was like to be so inspired to leave Mississippi and everything he knew and head to Chicago.
Name three things a player can do to improve their musicianship.
Listen to other types of music, other soloists, not just guitar – saxophone, trumpet, piano, etc. Practice, learn songs and things you always wanted to learn. Take the time to learn, even when you're not into it. Try to play another instrument. Try to learn some piano or drums, it really helps me play guitar better when I think about where the other players are coming from.
If not yourself, who would you be?
A doorman at an elegant apartment building in New York City.
Given the changing business landscape of the music business and how tough it is to sell records etc. — what are the positives about the current evolution of the music business?
Well, it may not be as easy to sell lots of records at once, but if you get out and tour and make fans the old fashioned way: one at a time – you can make fans for life that will buy your music. You don't need a big record deal or a big label to work as a musician these days, that is a huge plus to me.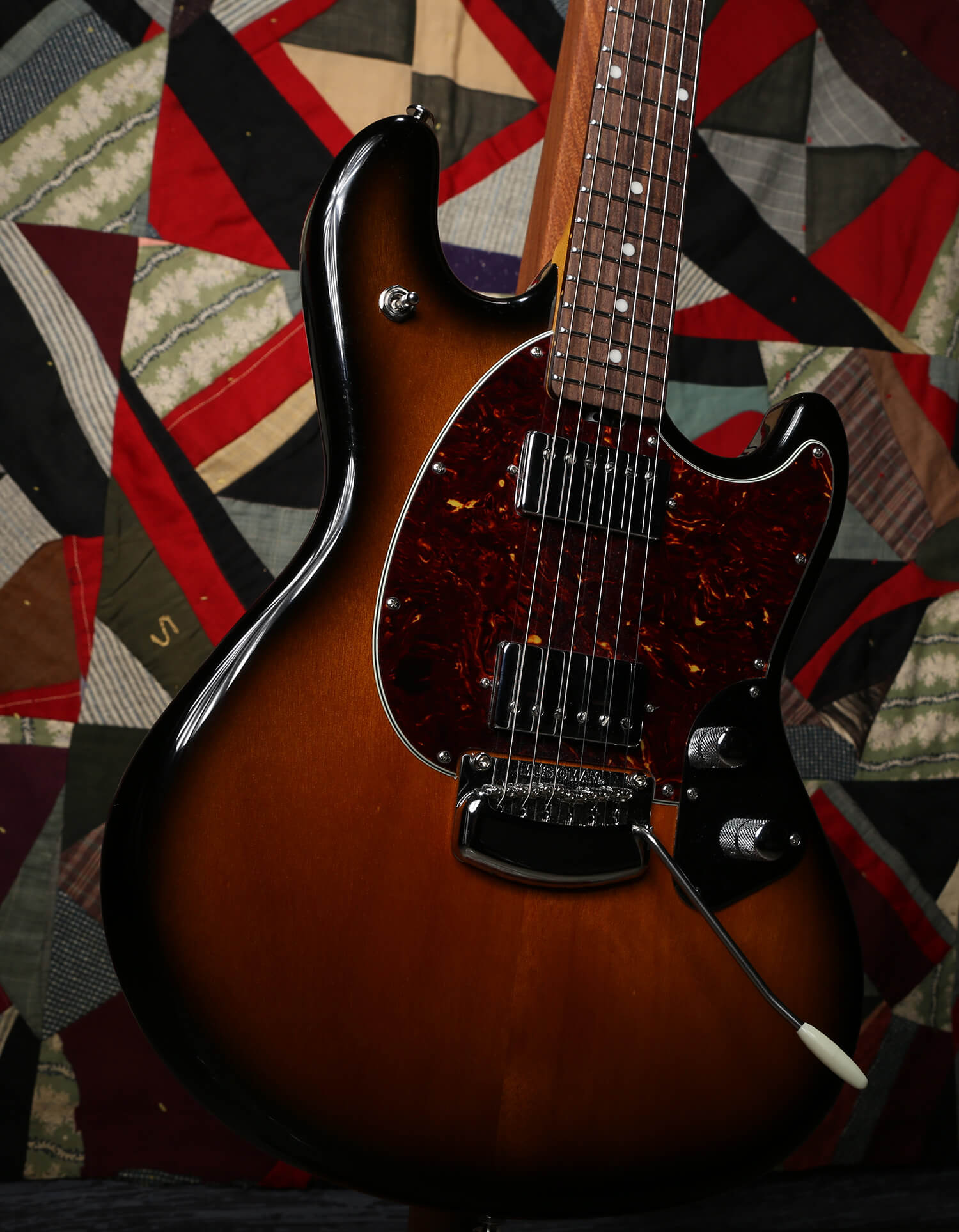 Your favorite motto?
"Leave your Ego, Play the Music, Love the People" – Luther Allison
What do you dream about? Literally.
I had a dream last night that there wasn't enough room on the stage for me to set up…very upsetting.
What are your aspirations?
To continue to learn to play this guitar. To make better music and be more open and true. To make sure my kids have a good start in life.
What one event in music history would you have loved to have experienced in person?
Woodstock – absolutely.
Your favorite heroes in fiction?
I think maybe James Bond. He's always gonna do the right thing, but he's a bit smug about it, isn't he?
What or who is the greatest love of your life?
My wife, Laura. I had no idea this love was possible, only in the movies.
Your favorite food and drink?
Italian food of course, specifically Eggplant Parmesan.
In your next life, what or who would you like to come back as and why?
I think I would like to come back as a dog, I like the idea of laying around all day.
The natural talent you'd like to be gifted with (other than music)?
High Jumping…REALLY high jumping.
In life or in music, what is the one central key learning that you'd like to pass on to others?
You cannot hear if you continue to talk.