Yvonne de Villiers was the visionary, co-founder and designer for Luna Guitars. Alex Morgan is a freelance designer based in the UK who partnered with Yvonne on many projects.
Yvonne's Story
I was a stained glass artist for 30+ years. Since my designs were primarily in public places, it was crucial that they be an organic extension of both the architecture, as well as the people that inhabited each space. Because I often created glass for sacred spaces, many designs employed cultural or universal symbolism to please the eye, nourish the spirit and allow the viewer to forge an emotional connection to the building. I am a firm believer that energy follows intent, so I always aimed to bring as much attention to detail and authenticity as possible to every project. When I turned my eye to guitar design, I applied the same philosophy. With every instrument, it was my hope to enchant the eye, apprehend the heart, and foster connection. I view guitars as miniature sacred spaces and the relationship between a player and his or her instrument as a sacred equation…it is always an honor to be a small part of that equation.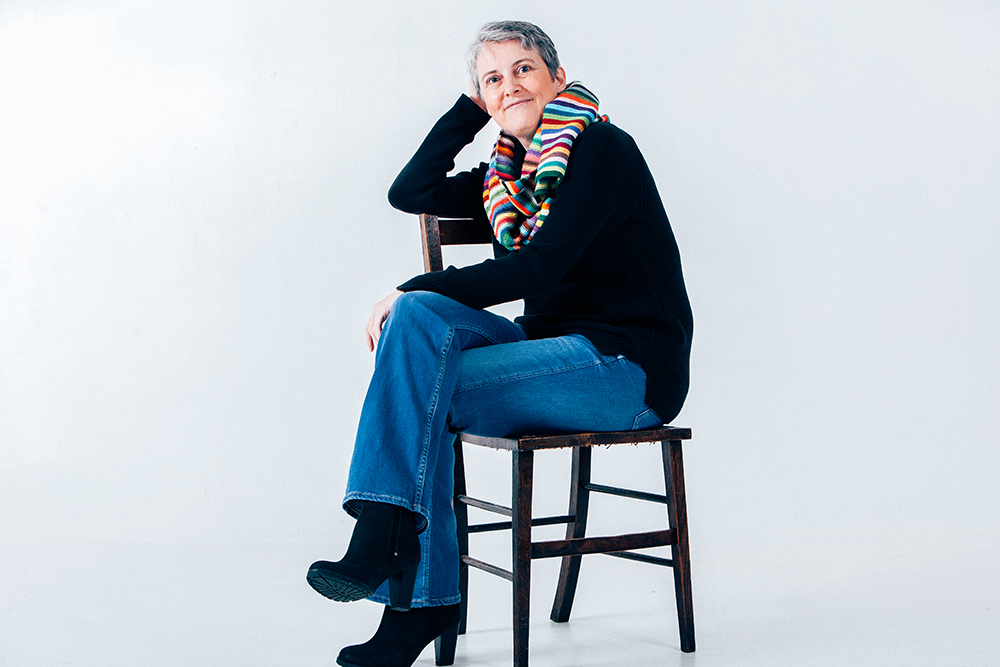 In 2007, I was intrigued by the look and feel of laser-etched wood, as it was reminiscent of henna on skin. Subsequently, I envisioned an intricate henna design on a guitar soundboard using this relatively new technology. It was important to me that the design be genuine so I initially contacted Catherine Cartwright-Jones, a scholar in the field, who was preparing a dissertation on henna for her PhD at Kent State. Because she was too busy to take on the project, she providentially put me in touch with Alex Morgan and the rest is guitar history!
Alex immediately "got" the idea and the henna "Paradise" guitar was born, followed by many more designs drawing on henna and other indigenous ornamentation. Yvonne sits down for an exclusive Riff interview with Alex.
---
Y: What ignited your passion for design?
A: I've always made patterns and loved drawing. I cannot remember a time when I didn't draw, even as a small child I made patterns all the time. I decided I wanted to be an artist when I was four years old so I think it's always been part of who I am rather than just something that I do.
Y: What was your reaction when first asked to design a henna guitar?
A: It was a perfect moment, simply wonderful! I totally connected with the project, the intimacy of marrying the artwork to the musical instrument to create something strong and special for the musician. At that time I was working on a collection of Medieval Spanish henna patterns so the historical connection between that place and period and the origins of the guitar itself fell perfectly into place.
Y: Your designs have all been laser etched. What is your design process like to prepare the art for the guitar manufacturer? What tools do you use on a daily basis?
A: Drawing is a physical process so the tools you use do influence the end result. For me the creative process usually begins with a pencil, a very pointy pencil sharpened with a knife for preference! Finished ideas have to be translated to digital medium for manufacture, but I find it can be limiting to start with the computer. The pencil easily keeps pace with my thought process, visual notes can be generated and any that show promise can be worked up to a finished state for consideration. I really like working with laser etching as an artistic end point because it does not interfere with the voice of an instrument. Many other ways of applying decoration to the soundboard of a guitar would have a damping or dulling effect upon the sound quality.
Y: Why do you feel that players have been so attracted to instruments featuring body ornamentation?
A: Perhaps it's the concept of the guitar as an extension of the body. Music and pattern are quite complementary art forms. I personally like the way they come together in guitar design to result in performance.
Y: Vicki Genfan is a TrueFire educator and your artwork graces her signature guitar. Where do you start and what is the process like when asked to create artwork of a personal nature for a musician?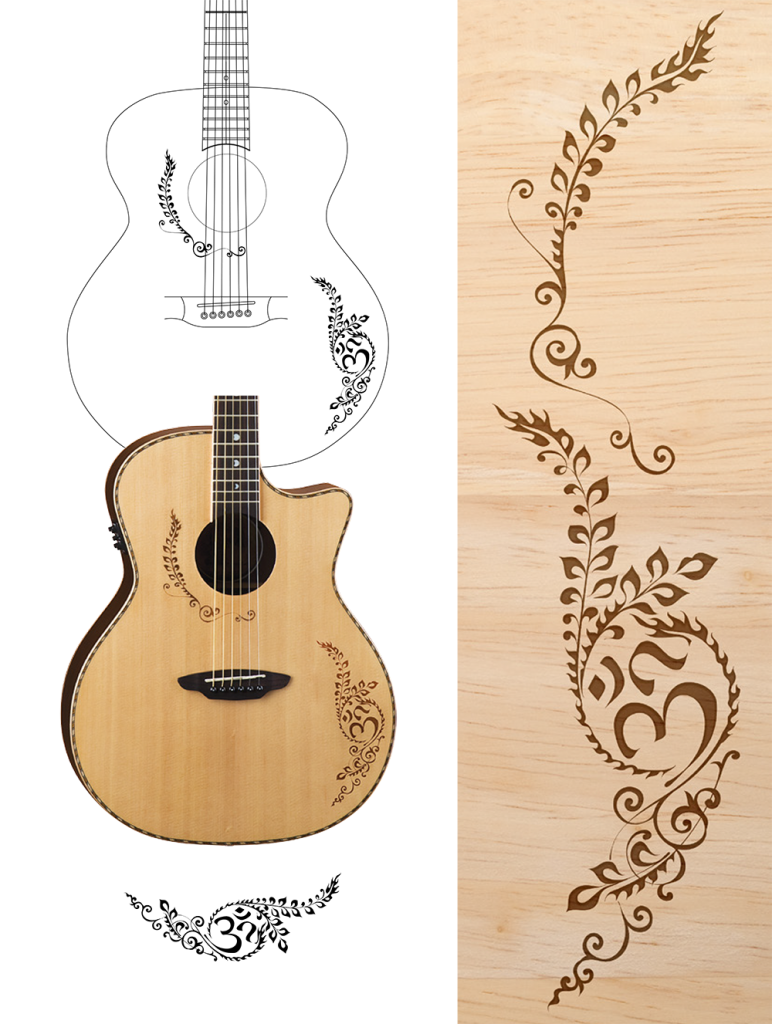 A: The starting point is the artist for whom you are creating and what is important to them. A personal design has to be a good fit and shouldn't be imposed upon them. It has to represent them in a way they can relate to. Vicki wanted to work with the Om symbol so that is where we began the journey adding other layers of meaning and symbolism as the idea developed. The Om symbol needed a framework of some kind to anchor it onto the canvas (guitar body) like a jewel in a setting. I began creating this element of the design by looking for a way to use a soft organic plant motif (as a frame as if growth were springing from the Om). Once the placement of the design was established I began to work out the detail of the foliage. It was important to me that we brought in some more layers of meaning in the artwork. Vicki suggested flames and we created a visual fusion of flames and foliage with one other. My daughter was reading a Russian folktale about the Firebird and this idea is woven into Vicki's design both at the sound hole and also hinted at around the main motif. If the Firebird gives you a feather it will light the path and guide you safely home through the dark forest. It is a positive symbol of hope, a blessing and illumination.
Y: What kind of music do you like to listen to when you work?
A: If I'm working for a specific artist then I listen to their voice. Otherwise with a twelve year old in the house I don't always get a choice about what I'm listening too.
Y: How would you describe your design style?
A: I'd try not to! People love to define everything, but for art I think defining it inevitably creates limitations and being an artist should be about trying new things and bringing your own voice to different applications and media without fear and self imposed boundaries.
Y: Do you ever create hidden meanings or messages in your work?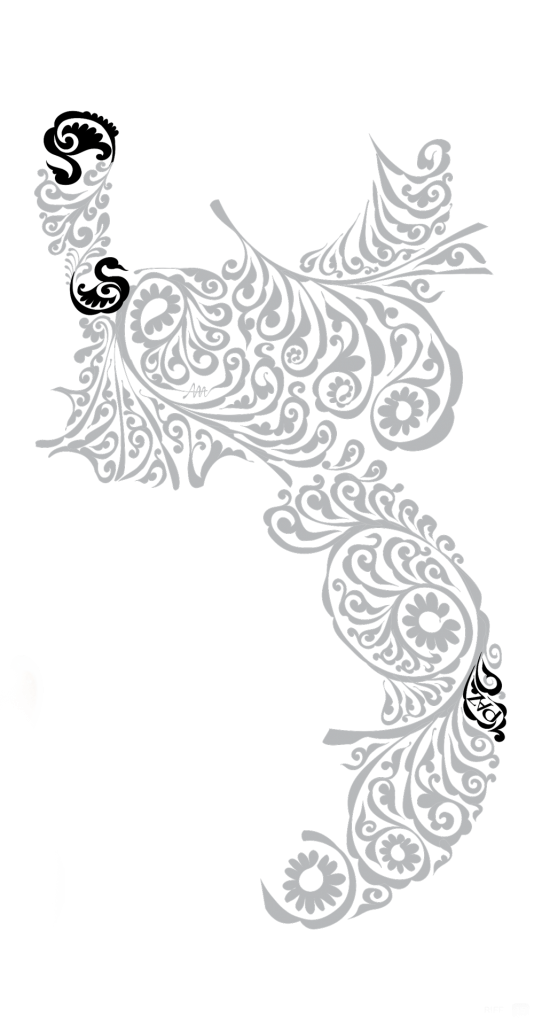 A: Yes I do :o) Sometimes I play with the symbolism of motifs, sometimes I just hide elements within a design as unexpected little surprises for anybody who really cares to study things in detail.
Y: What inspires you?
A: Inspiration comes from all sorts of things often when I'm not looking for it. It's important to be open to the possibility of inspiration. If you believe you don't have any ideas, then it will be so. I always carry a notebook around so I can jot down ideas that flit through my mind before they escape. Inspiration can be a place, a color, a person, a random chance comment, perhaps a song or a lyric, a piece of text, almost anything. I'm especially fond of superstitions, folklore and fairytales.
Y: Do you do anything special to get your "creative juices" flowing?
A: It's helpful to look outside the box even when working on a very specific brief. I like to draw in threads of interest from many directions to bring something new or unexpected to a project.
You can see more of Alex's work and contact her here:
http://www.spellstone.com
https://www.facebook.com/Spellstone
http://www.spoonflower.com/profiles/spellstone